Andrew Reed – If All The World Were Right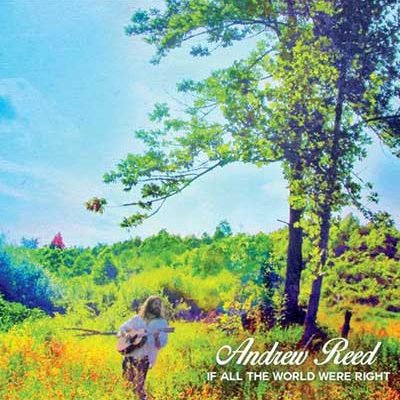 North Carolinian Andrew Reed, a core member of psychedelic rock act Space Apaches, has also been releasing music as a solo musician since his 2007 debut album Search for Significance.  The Americana artist's latest LP, If All The World Were Right, dropped on New Year's Day via Artists International Inc.
While many singers and bands are diving deep into the recent dark days of the socio-political realm, Reed shines a ray of light instead, opting for positivity and a message of hope.  A reflection of Reed's own journey through life, he triumphs over challenges with gratitude and humility, asking humanity – as individuals and on the whole – to believe in ourselves.
The 12 songs and album-ending instrumental with poem is a pastoral ramble through singer-songwriter territory buoyed by light guitar strum and piano notes.  Reed's vocals are at times gently wistful to joyously emphatic.  Upbeat album-opener Sailed Away flows with a bounteous swell of guitar strum, delicate piano notes, restless percussion, and soft cymbal hits.
Wavering organ notes run through the retro-'70s-tinged alt-folk of Cure My Mind.  Sharp drum strikes, mellow, but quick guitar notes, and the occasional saxophone cry, circle around Life In the City, which decries the emptiness of the material world.
Reed continues plying the retro vibes on the yearning ballad Putting Things In Order.  He sighs with longing on the chorus, bolstered by airy female vocal accompaniment, while the verses focus solely on his voice.  He pays tribute to a woman named Carolina (or is it his home state?  Hmmm…) on the twangy Americana tune Carolina In the Morning.
Spare folk number Open Road meanders with a light touch of lap steel guitar curls, a steady beat, shaken percussion, and mellifluous guitar strings.  On the chorus Reed rejoices at the possibilities in life, declaring, "What was I to be? / It's an open road for me."
On the subdued piano (and guitar) ballad All of My Life, Reed gets reflective, looking back at his journey where "All of my time spent on dreams."  He sings about living in the hectic city and finding rejuvenation in the woods, content with his choices, revealing, "…I'm not afraid / I'm here to greet the day / There's not a thing I would change."
[soundcloud url="https://soundcloud.com/andrewreed-1/01-sailed-away" params="" width=" 100%" height="166″ iframe="true"/]
If you enjoyed the preview from If All The World Were Right, check out Andrew's official website by clicking here. Give him a like on Facebook by clicking here & a follow on Twitter by clicking here. Lastly give a listen to the entire If All The World Were Right album on Soundcloud by clicking here.