Dave Diamond – Trois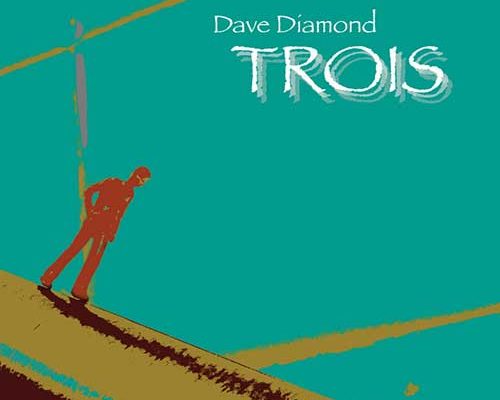 Dave Diamond already has one of the sweetest names ever, sounding like a wrestler straight from the WWE. More so, his music paints him as a cooler Uncle Kracker. His breezy, summery numbers define laid back, perfect for this ongoing summer heat striking the nation with authority. As you can probably tell by now, this is a favorable outlook on his release Trois.
Diamond's opening number All Good Things work well with a sing-a-long type melody, utilizing female background vocals to great balance. The melody itself is Jason Mraz-esque but Diamond keeps the tempo steady, singing "All good things are hard to believe in/And I can only hope/That I'm not dreaming/ Round, round, we go/And day after day and/Don't let it all bring you down." It is feel good at its finest.
Breaking Hearts has a bit of a Spanish-NYC vibe. Imagine street corner Spanish Harlem. It thumps like drummers on a bucket and other makeshift instruments.
Here In The Summertime gets a little groovy and psychedelic. Not my personal style but I can appreciate the dance-able 70's-80's throwback here. It has that undeniable Miami dance party feel to it, and to Diamond's credit the song sounds exactly what the track title conveys. The melody is choppy with some downright funky instrumental breaks.
Oddly, it is followed right after with Little Things. It is more of a singer-songwriter track, which I would have not put after Here In The Summertime due to its extremely stark difference. Nonetheless, the track itself is peaceful and the most subtle off the album. Once again, its name captures it well. It reflects on the simple things in life, examining age and time, in a ballad. "The other side of this life are for you and me," sings Diamond, indicating the first part is a learning curve. We can all relate to these matters. You can also say this is the most radio friendly. It could have anyone looking back at his or her life with a smile on.
A favorite number on Trois is Let It Go. As you can imagine, it tells the story of ridding of the baggage. It has a softer side of Rob Thomas here, mixing narrative with universal themes and lyricism. "So young and jaded, so young and confused/In the darkest time of your life/You keep your secrets, you keep them deep inside/You can run but you can't hide as it tears you apart in side." This means something whether you are 15 or 50.
Surprisingly, Queen Of Sorrow hits us with what comes across as a country number. It displays a bit of Carrie Underwood angst. But by album's end we get Diamond at his all-around best with highlight Long Goodbye. You can see influence by Fleetwood in the verses with maybe OAR in its hook. It's the perfect end to a release that is packed well. While it is hard to point out a genre for the artist, on this album each is represented with dedication and respect. Diamond shows longevity.
[soundcloud url="https://soundcloud.com/liveforlivemusic/13-long-goodbye" params="" width=" 100%" height="166″ iframe="true"/]
If you enjoyed Dave Diamond, give him a like on Facebook by clicking here & a follow on Twitter by clicking here.