Dici – Self Titled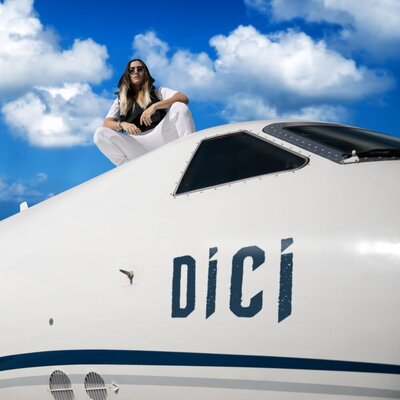 Listeners will have a right to feel greedy after listening to the debut smash, the self-titled five-track EP from DICI. A wild mix of vintage flows and energized beats, DICI is a hard-to resist rap trek. DICI's word flow seems hard to contain, but he more than manages to create a zestful mix of braggadocious and quirky lyricism. He himself being multi-lingual, DICI is performed in English, but its universal beats and rap language speaks to listeners of all music genres. This one's a keeper. Scratch that – these five are keepers.
Rather than deluge the listener with computerized sounds and illustrious mixes, DICI relies heavily on his lyrical skillset. He's quite versed on cross-pollinating his own style with that of Machine Gun Kelly, Eminem, Esham, Juicy J and G-Eazy. That's not to say his music bedrocks aren't solid – quite the contrary. He has solid instincts for tracks that sway the heart and shoulders. Immediately in "4Door" the sonic tones are laid back, chill. The song conveys DICI's moments in a car. Then in "Vector" he completely changes the sonic landscape and creates an unforgettable aura. "Vector" made me feel like I was in the presence of something both futuristic and some sort of period piece movie. The cascading piano is electric.
"Vector" ranks pretty high among my favorites, but "305 Interlude" and "Bar For Bar" never skimp on entertainment and escapism. DICI relishes in his own observational lyrics, but he also continues to evolve. I think if you compare "4Door" with "305 Interlude" as a listener, you find yourself peeling back at an artist who actually as some philosophical observations. His tempo and cadence is so easy to follow and embrace.
Finally, in "Shibuya" I sensed this was the 'real real' DICI. Something about this loving, adorning figure made me feel more connected to DICI's sensitive side. Still, he throws out references to being high (again). I'm staying in Japan, a broad's a broad…he raps. All the while he's spitting out his lyrics, the backing music is immersive and transportive. He herds together a sound that feels like you're being swallowed into this wonderfully bizarre sonic blends. He's really digging this girl and this city. He's in Japan and the sky's the limit for what the world will throw at him…and he's ready and eating it all up. I had to refer back to his biography and indeed he's still teenager (he's 17), so there are moments of that youthful fearlessness. I would say DICI, at this point in the EP, is an alchemist. What a way to end the journey.
https://open.spotify.com/album/2G3bIlrQn4FaHn0QmjYyND?si=yR1_KFrJTsicCdn9EXZEnw
I have to give very high marks for DICI. This is something way unexpected and I found myself enamored with is boyish voice and mature lyrics. A head's up to some listeners that have some hesitation to listen to expletive lyrics, you will find it in these five songs. I personally felt like it worked in the moment and DICI might be sly about it, and it doesn't take away from the actual listening experience.
Check out the official website for DICI by clicking here. Give her a like on Facebook by clicking here, a follow on Instagram by clicking here & a follow on Twitter by clicking here.