Bleu Roi Interview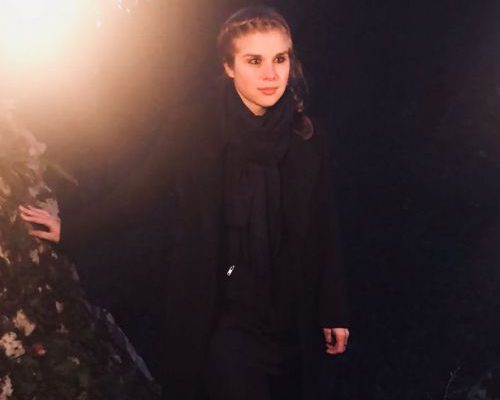 Photo courtesy of Myriam Wittlin / eyeloveyou
You know that summer is coming when the city starts to give off heat even when the sun isn't shining. Your sense of smell seems amplified, and you can feel the breeze on your skin, and there's so much more going on around you. You wake up in the morning and you feel alive and open to the possibilities. And then there are those days when it gets so hot and stifling that all you can think about is how the hell you can jump out of this giant microwave oven.
But you can't, of course, because of the job, or the lack of time, or the shortage of funds, or whatever. I felt like this the other day. It's easy to feel this way on a burning summer day, but relief is near in the form of Swiss music project Bleu Roi.  Like a glacial lake, their new single Darkest Hour drenches the listener cool, blue refreshment, breaking through the surface of summer's furnace with mysteriously beguiling, slowly contorting and unraveling sounds.
Bleu Roi are vocalist and songwriter Jennifer Jans, her sister Imogen Jans on keyboards and backing vocals, and brothers Axel Rüst on guitar and Stefan Rüst on drums. Darkest Hour is available on all download and streaming platforms courtesy of PlusPlus Records. Jennifer took some time out to reveal some details about the new single and video, and what's to come as Bleu Roi.
IndieMusicReview: Hello Jennifer!  So good to touch base with you. Darkest Hour is a stunning song! Can you tell us a bit about how and when this was written, and what your connection is to Gothenburg, Sweden? 
Jennifer: Thank you so much! I wrote Darkest Hour in the fall of 2016 for our album release show. It started out with just piano and vocals, but I always imagined it to have my sister's choir singing the harmonies. The lyrics deal with processing events in our society, with the question of what hope and fear means to us. It also alludes to very personal issues that I have been dealing with for a big part of my life.
So I wanted to it sound very human and intimate. Darkest Hour was recorded in Switzerland together with our Swedish producer, György Barocsai, with whom we recorded our album Of Inner Cities, back in 2016. The decision to go to Gothenburg had to do with the fact that we wanted to get away from our everyday environment and have the possibility to concentrate on nothing but our music, at least for a while. It's a different kind of inspiration and the studio there is just simply amazing. So we are very much looking forward to making our way back there this summer.
IndieMusicReview: Are all of your songs autobiographical? 
Jennifer: I would say all of our songs are very personal, but they are not all autobiographical. Music is a very important outlet for me, but there can also be stories of other people's lives or processing observations. Darkest Hour is definitely a very personal song.
IndieMusicReview: How do you decide how much of yourself you want to reveal, and what are some personal borders that you don't want to ever cross? 
Jennifer: It's true that this is not always an easy question. Music is something so personal that it is hard not to have any kind of feedback effect on you, in a positive as well as in a negative sense. In the very beginning my lyrics were very cryptic, leaving a lot space for interpretation, but have become more open and direct over the years.
I have also become more aware of the fact that as a musician and lyricist you have a unique platform where you have the possibility to directly address your audience, and maybe get them to think about certain things that they might not normally address. So I also try to challenge myself with being open and maybe even exposing myself more than I used to.
IndieMusicReview: This is a one-off release and it's not connected to an album or EP. Why is that? 
Jennifer: We always felt that Darkest Hour would build the perfect bridge between our debut album and the upcoming production. It is such an important song for us, and it already shows a bit in which direction we are evolving musically. I also feel like with more than 20K songs being released every day, the appreciation for a one-off release sometimes can be bigger, as people actually take a moment to listen to the song and appreciate it more.
IndieMusicReview: Are you writing any new material? And when could we expect to hear it?
Jennifer: We are going back to Gothenburg to record our new EP this coming July. The full EP is only planned to be released in the spring of 2019, but there will be new music to hear earlier. The plan is to release individual songs before. You will be hearing from us again real soon.
IndieMusicReview: In closing, tell me about the video – it's so gorgeous! I rarely use that word, but somehow I can't think of a better one in this context. 
Jennifer: Wow, that means a lot. And it's really nice to hear this as it is all home-made, so to speak. Our drummer, Stefan, is also our video mastermind. He has been making all of our videos in the past few years. He went to do the landscape filming in Scotland this past March, being inspired and touched by the amazing scenery. The more introverted scenes are of me and the daughter of dear friends of ours.
This child depicts my 'inner child'. In the end, my sister joins in as well, as she is expecting her first child this summer. So, it is loaded with a lot of emotional content for us. It also makes a reference to the elements of light and darkness, which will be the main theme of our upcoming EP. So the video has several levels to it and shows how the different realms are just as much part of our lives as others.
Find out more about Bleu Roi on their official website by clicking here. Give them a like on Facebook by clicking here & a follow on Twitter by clicking here.