AV Super Sunshine – Smile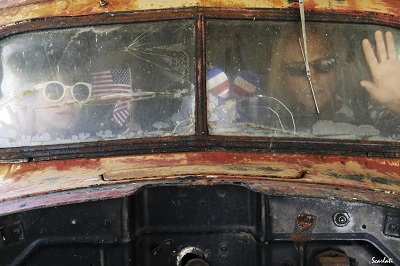 "Smile" the latest single from indie darlings AV Super Sunshine is coated in the pop rock and funk that hasn't been correctly done since Deee-Lite. Unfortunately, AV Super Sunshine doesn't enlist the help of Bootsy Collins, but what they lack in Bootsy they sure make up for with moxie.
The song joins a very long list of tunes that have "Smile" in the title. Among the songs in all genres are "Behind The Smile" (Rick Astley), "Smile For Me" (UB40), "Smile (Uncle Kracker), "Smile Like You Mean It" (The Killers), "When I See You Smile" (Bad English), "Can't Smile Without You" (Barry Manilow) and "Your Smiling Face" (James Taylor). There are so many more, but you get the picture. AV Super Sunshine really makes their song stand out with a classic sounds ripped into newer, modern feels.
Before "Smile" AV Super Sunshine has released quite a few singles to international acclaim. Songs like "Candyland" "Apple", "Time Bomb", "I Am Alien" and "Orange" have successfully topped both DJ and radio airplay charts. AV Super Sunshine is from Fond du Lac, Wisconsin and records under the Victor House label.
The lyrics are pretty straight forward. Nothing too prose. The chorus is "won't you smile with me, a great big smile, then we all can see my baby's smile." I liked the relationship nod, giving props to his love and how her smile is enthusiastically received. As simple as the lyrics are, the music underneath goes in a few different directions.
I loved the electric pulse that thrives underneath the bass, percussion and guitar work. It's living, it's alive! It's the perfect symbiotic relationship between rhythm and beats. For me, the drum work was quick, and it made me want to dance. It made me want to escape into this kooky world that was invading my ears.
"Smile" has a music video that is pretty out there, at the Easy Rest-Inn that is. The scenario is a vacant restaurant and motel, alongside an antique lot. I'm not sure if it's in the desert or in the Southwest, but the look is very tan, very red dirt.
The "people" in the scenes are both real – members of AV Super Sunshine—and fake. They are somewhat creepy mannequins dressed in retro garb. The dolls' are of course permanent and by the end of the video, the band members have look-alike mannequins. I think the setting for the music video would be really fun to visit, but I'm not sure I would want to spend a great deal of time there – those dolls got to be a little outrageous!
Overall, "Smile" is a friendly song with lots to love. I found the wicked drum work to be outstanding and the vocals to be very engaging. It's not the club mix dance track that many AV Super Sunshine fans have become accustomed to, but it's definitely a power track. I hope "Smile" spreads like wild fire for these guys, the world could sure use some uplifting messages and song. Even mannequins.
If you enjoyed "Smile", check out the official website for AV Super Sunshine by clicking here. Give them a like on Facebook by clicking here. Give them a follow on Instagram by clicking here & a follow on Twitter by clicking here.