DiCi – Five Rings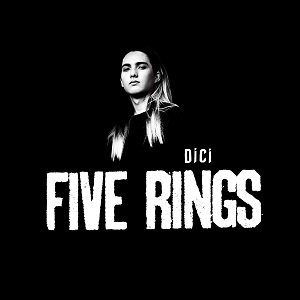 It isn't every teenager that can cite Sun Tzu or Miyamoto Musashi as core influences on their work, but DICI isn't quite like every teenager and from the moment his new single "Five Rings" begins, this fact becomes extremely evident. Beginning the intimidating career path of a young musician amid a global catastrophe might not have been the expected or safest trek but the path of least resistance rarely makes the front page, and DICI is an artist that will only settle for the best.
When it comes to launching successful careers, people oftentimes tend to forget about the youth demographic. Be it in entertainment, politics, or anything, really — the kids are the future and there's only so much we can continue to discredit them on before they take over. DICI seems to have a strong grasp on this attitude and began his initial steps as a musician seemingly one-upping the older generations by using his familiarity with social media to his advantage.
Offering up posts he referred to as "Dici Doses," he would engage with his audience and offer insight both into his creative process and impending releases. It was through this that he found the name for his new album title DOSES, which should be out in the final quarter of this year.
The first single off of DOSES coming in the form of "Five Rings" feels like a crucial first step beyond the realm of DICI's eponymous EP that saw release earlier this year. The steps furthering DICI's maturity not only as a young man but as a musician feel evident between the two releases, but the familiarity and overall lineage of the music remain as linked as ever.
"Five Rings" has a unique quality within its production, with the laid-back melody in the chorus contrasting DICI's rapid-fire verses, and this balance is something that feels impressive in its abilities. The song never feels overcrowded or rushed, residing at just under three minutes in its runtime, and the overall pacing feels effortless between the weightless, sung chorus pitted against DICI's near-angry, strong punches thrown down in the verses.
The subject matter of wanting to come first and be taken seriously tracks for an artist this young and hungry, but the listeners are never given full insight into DICI's internal monologue as he mainly stresses the point that he's dead-focused on his success. "Five rings, take it how you will; I don't care how you feel."
The portrait painted of a young creative backed against the wall of his academia and bright future told from the viewpoint of a teenager trapped inside during a historical pandemic isn't something the music industry has experienced up until recently, and DICI's music seems well-equipped to deliver on such a premise. The confidence and stride remain undeterred, even in the face of hard times that only stack more upon the already overwhelming odds of succeeding as a career artist — DICI is aware of what you're thinking, what you're going to say, and he couldn't care less.
If you enjoyed "Five Rings", click here for various ways to get your hands on the single! Check out DiCi's official website by clicking here. Give him a like on Facebook by clicking here. Follow him on Twitter by clicking here. Lastly subscribe to his Youtube channel by clicking here.