Jeremy Rice – Underneath The Ground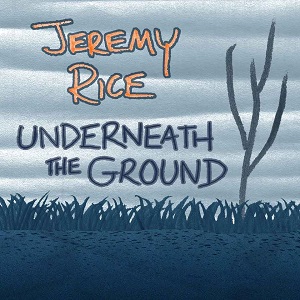 It takes a lot to be a standout in pop music nowadays, but for Jeremy Rice, it's as simple as getting into the recording studio and cutting a new tune. "Underneath The Ground" is the latest track to bear his name in the byline, and while it doesn't change anything about the formula he's been utilizing for a while now, it unquestionably sounds like a melodic gem any way you approach it. Rice has a lot of eyes on his career at the moment, and after listening to this song and checking out its video, I can see why he's become a magnet for the attention.
The production quality is premium all-around for "Underneath The Ground," and I would give particularly strong praise to the experimental style of the hook's presentation. The chorus has so much more panache than the rest of the song, and yet it isn't being synthetically pumped up from behind the board at all; instead, the rest of the band backs down to give the spotlight over to the synchronicity between the guitar and vocal parts exclusively. It's a smart way of making a naturally cathartic moment even greater, and something other players might be able to learn something from themselves.
Exploring retro alternative concepts isn't anything new to those of us who follow indie rock in and around North America, but the way Rice does it in the music video for "Underneath The Ground" feels pretty original for the most part. The video thankfully focuses mostly on the music more than any highbrow visuals that might have been born of the psychedelic-tinged influences here, and when all is said and done I think it's going to rank as a fan favorite among those who have been keeping up with this act's journey from the underground to the primetime.
Normally I wouldn't want as much of an emphasis on the vocal for a song of this kind, but the scheme works rather well almost entirely because of the talent Rice has as a singer. He's able to get a little indulgent in his performance here without sounding out of place solely because he has the vocal chops to sing and melodically reinterpret most anything he fancies. This could get him into considerable trouble if he gets careless in his experiments, but as of now I don't see this becoming a serious problem in the immediate future.
There aren't a lot of noteworthy players generating any sort of real buzz in this player's scene at the moment, and therefore I would have to say that Jeremy Rice is doing a good job of representing his local underground passionately in "Underneath The Ground." He's got a skillset that could be worked into multiple different aesthetical directions, but in sticking to the pop/rock script he has been thus far I think he's showing everyone just how mighty a voice he brings to the table with him. I'm confident this is going to increase his fan base, or, at the very least, extend it into new territories previously inaccessible to him.
Check out the official website for Jeremy Rice by clicking here. Give him a like on Facebook by clicking here & a follow on Twitter by clicking here. Lastly check out Underneath The Ground on Spotify by clicking here.