Junk Parlor – Mick Jagger's Heart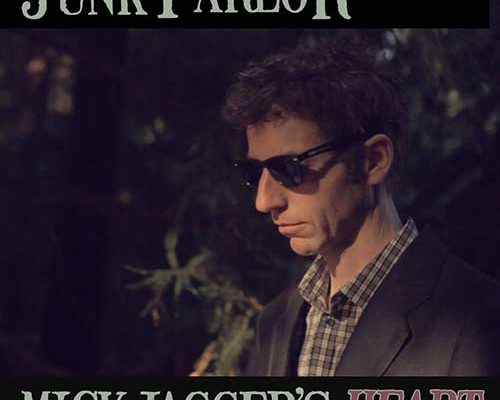 Bay area gypsy roots rockers Junk Parlor have released a new single and video from their upcoming album. The title of Mick Jagger's Heart hearkens back to the Rolling Stones track Dear Doctor, in which the venerable frontman is so heartbroken that he takes drastic action- removing his heart and putting it in a jar.
Musically the new song takes you back to the same era, mixing 60's rock and roll with a bit of San Francisco surfer cool and the theatrical flair of Leonard Cohen. The mix of different influences from years gone by and Jason Vanderford's bluesy, croaking vocals ensure that Mick Jagger's Heart retains the same ramshackle old-school charm the band are becoming known for.
The tune opens with with a nonchalant surf rock riff that instantly tunes your ears back to the golden age of rock n roll. The winding verse has a distinctly British flavour, with its jazzy guitar licks and whistling organ calling to mind the madcap pop of Syd Barrett era Pink Floyd.
Vanderford sings his tales of heartache and woe with a suitably sullen, downcast delivery which offsets the jauntiness of the music, giving it a melancholic feel that's very evocative when paired with the black and white visuals of the video.
The chorus, in which Vanderford requests his own heart be torn from his chest and enshrined next to Jagger's (which has presumably started to rot quite badly by now) has a macabre weirdness to it much like some of The Who's best work, and the folky group harmonies give the song a strong pop sensibility that ensures the melody will be winding its way round your head for days to come.
Junk Parlor's sound has at times cobbled together everything from punk to folk and gypsy influences but on Mick Jagger's Heart they keep things purely old time rock n roll, resulting in a straightforward, accessible single.
The accompanying video directed by Jeanne Jo features some great shots of the band in action, as well as some interesting views of San Francisco from different angles and perspectives.
It's a well enough put together video but it does feel a bit aimless at times. Far too much of it is just people wandering around, or sitting talking, or Vanderford looking brooding. There's also a whole random section of a bunch of people swimming, which doesn't make a lot of sense.
The video never has the same energy or sense of momentum as the song, nor any of the quirky imagery of Vanderford's lyrics. A purely performance based video might have served Junk Parlor better as they do have a sense of chemistry and charisma as a band that makes them very watchable.
Despite the slightly dull video Mick Jagger's Heart is a finely written dose of retro boogie with enough wry style and offbeat melody to make it more than just a rote rehash of tired 60's tropes. Here's hoping the band's heart stays beating long enough for us to hear a few more of the oddball gems they've got hidden away amongst all the junk.
If you like Mick Jagger's Heart, make sure to give Junk Parlor a like on Facebook by clicking here & a follow on Twitter by clicking here.