Mystery Loves Company – If Heaven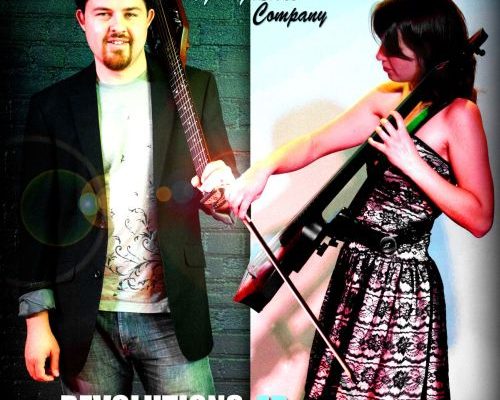 Mystery Loves Company is a Houston, Texas-based chamber rock/folk duo, and sometimes band, led by newlyweds Maddy Herdeman (cello, vocals) and Carlos A. Machado (guitar, vocals, lyrics).  The pair formed the act in 2012 after they met an open mic event.
Mystery Loves Company uses Herdeman's skill as a conservatory-trained cellist and Machado's self-taught songwriter and guitar talents to draw the listener into a richly humanistic world brought forth by natural acoustics, engaging vocals, and relevant lyrical themes regarding modern culture.
The duo is rounded out by Jeremy Dudman (bass), Danny Patterson (drums), and Alauna Rubin (clarinet).  The band will be releasing its 3-track EP, Revolutions, on April 7th.
The reflective subject matter of the EP's songs is sure to set off conversations about individual and society's struggles and triumphs, and hopefully bring a wide range of listeners together over their diverse and shared feelings and experiences.
The single If Heaven is a surefire convo-starter based on its lyrics about heaven.  Machado's wrote the song from the point of view of when he was a child.  At that young age, he was told that if he was good, he would go to heaven – a place far above the Earth – and that actually scared him.  Machado doesn't see the issues he tackles as being either black or white, but instead explores gray areas that leave room for interpretation.
If Heaven unfolds with gentle acoustic guitar strum, the pull of deep cello lines, and a prominent drum beat.  Machado sings in a plaintive voice, "Don't wait for your reward / Don't stand by." on the verses, while backed by Herdeman's lighter tone.  Added choir voices bolster the chorus sections, giving a strong lift to Machado's powerful words.
[soundcloud url="https://soundcloud.com/mystery-loves-company/if-heaven-by-mystery-loves-company-pre-release" params="" width=" 100%" height="166″ iframe="true"/]
If you enjoyed If Heaven, check out the official website of Mystery Loves Company by clicking here, give them a like on Facebook by clicking here & a follow on Twitter by clicking here.