Grown Up Avenger Stuff – Eclectica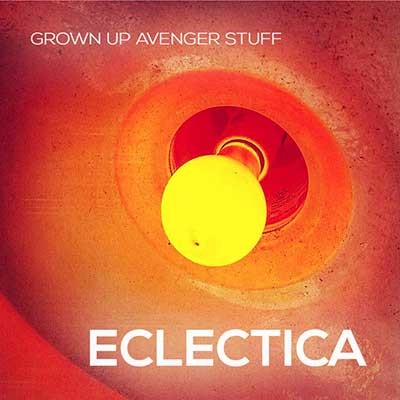 Energy is a dominant theme spanning Grown Up Avenger Stuff's fourth release Eclectica. Even when the tempos slow, John Thomsen, his sons Tyler and Hunter, along with vocalist Deirdre Kroener perform each song with immediacy and urgency. These are ten songs of commitment – the lyrics spill out anguished tales of unrequited love, derailed passions, and life lived full while the forceful instrumental hammer thrashing away behind Kroener leaves a mark on any listener. This is a band that will not be denied, but Eclectica, as the title implies, might require more than a single listener or two before deciding on its lasting merit.
They do tend to follow clearly marked trials, but their similarities with other modern acts are twisted different by their own experiences. Brother opens the album with something akin to Wolfmother meets Queens of the Stone Age with a female lead vocal, but there's something almost southern gothic about the lyric content and Kroener's near crazed delivery.
Love Please follows along the same lines with less obvious structure and Kroener delivering an even more blistering vocal. Punk rock influences make themselves felt on tracks like Vision and elsewhere, but the former track stands out in particular. Kroener imbues her voice with terrific menace and the instrumental assault feels mere steps away from bursting out of the speaker.
There's a hard edged New Wave mode in play on a few songs crossed with the band's hard rock inclinations that creates interesting juxtapositions. Heartbeat is a primary example. The romping verses blow up into enormous guitar workouts while never overwhelming the song. Grown Up Avenger Stuff show great control balancing out their various stylistic turns without ever allowing one element to completely overtake their approach.
You and I has a much more deliberate, drawn out pace than the earlier tracks and builds its full effects from layering guitar parts into an impressive wall of sound. What You Are ratchets up the tempo once again but employs snappier, shimmering guitar work placed against yet another big chorus.
The final song, Stars, brings piano into the mix and slows the tempo once again. There's a sense listening to the song initially that will lead some to believe this is track is placed last for very specific reasons and the sensation grows with each additional airing. Stars is a distillation of the band's past, present, and possible future. It brings their theatrical, melodic, and hard rock strains into perfect harmony for what might amount as a signpost pointing towards the future.
Eclectica will impress many from first track to last while others will have their particular favorites. One thing, however, is for certain – there's little to no outright filler on this album and the band clearly entered the studio with clear ideas about the album's direction. Bands like Grown Up Avenger Stuff make it all sound effortless.
9 out of 10 stars
Click here to purchase Eclectica on Bandcamp. If you like what you hear, make sure to give them a like on Facebook by clicking here & a follow on Twitter by clicking here.