Adam Levy – Naubinway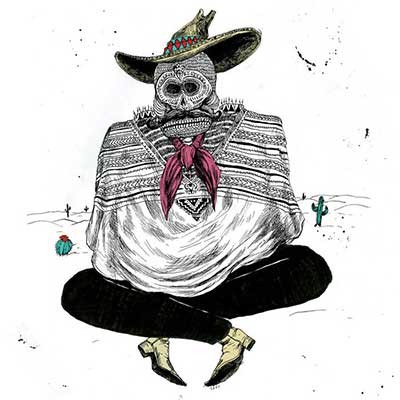 Naubinway is an album built around a dark time in singer/songwriter Adam Levy's life. His son Daniel sadly took his own life, an occurrence that no father should ever have to live through, so the thirteen tunes on Adam's latest record have more than their share of darkness and an aura of sadness running throughout. Still, as often as Naubinway delves into the solemn side of humanity, the music finds ways to be engaging and even positive.
Take It As it Comes sets the stage and features solely Levy and his guitar as his powerful vocals muse on life's many unexpected events. Centered on an ultraviolet acoustic guitar melody, this traditional sounding piece is glimmering with sunshine and sensitivity.
Jack White's work comes to mind on Potter's Field especially the folk/country soundtrack of Cold Mountain, where the White Stripes' leading man turned his attention to acoustic understatement as opposed to big, dirty riff-rock. Sustained, thumping bass notes hold together a rickety jam where the acoustic guitar bustles its way through a busy melody that sounds like the work of a dog-tired, traveling musician living off of only what he carries on his back.
Electronic layering and twitchy jangle pop go hand in hand with folky acoustics on the single-worthy Atoms Never Die. The feeling here is like a more instrumentally sound version of Arcade Fire with agile drumming and buoyant bass licks supporting Levy's tender vocals and fluid acoustic shakedowns. It marks the next phase of the album which starts stepping outside of textbook folk and into something more expansive.
This Friend meddles with dark, drearier textures bringing in some dirty electric guitar behind Adam's unplugged licks and a noticeable crescendo is achieved with the drums bludgeoning their way into the heart of a noisy, electric-charged breakdown full of obtuse timings and chord changes.
Soft piano passages and a multitude of keyboard fibers gloss When Your Well Runs Dry with a psychedelic sheen more associated with the work of later Pink Floyd than say Dylan or Seger. Again, Levy constantly reinvents his sounds from song to song on the same album.
Audio loops and keyboard mash-ups spice up what is an otherwise ordinary folk/country song when How I Let You Down glistens like dew on a blade of grass in terms of its musical genteelism. Levy strums out an irresistible melody on the guitar as his vocals stay calm and collected.
Pitch Black Path is harder and more blues-rooted than the couple of previous tracks and besides a wind instrument altered by studio FX, it has a very roots-y, farmland feel that is very much akin to the opening duo of tunes.
With an intro and outro teeming in ambient, soundscape bleakness Eucatastrophe is bookended by parts that sound like Goblin or something from the Italian psychedelic scene, yet the meat of the tune's midsection is a folk/rock groove that pushes, pulls and pines for the listener to sing-a-long.
Marigold delegates all duties to the acoustic guitar and breezy vocals with some nice back-up harmonies making the lyrics very memorable.
As always Levy finds a way to make his songs something special and this tune has a caterwauling climax where psychedelic noise swirls like a vortex of melodic madness before the album changes gears again with the strict country n' western slide guitar groove of Clemens in Plainview. Though country elements can be detected in several isolated locations within the prior tracks, this song could appeal to fans of Willie Nelson and Merle Haggard. Female vocals, fiddle and a stalwart rhythmic crunch even place this tune in the ballpark of good southern rock.
I Wish You Well is similar with slide and steel guitars overlapping Levy's intoxicating acoustic licks and super solid lead vocals. You get more of the same on Handful of Sand, although the tempo has a ballroom sort of shuck n' jive even though the instrumentation remains pure country with sultry acoustic twang leading the way to another knockout lead vocal from Levy.
The title track takes us back to the way the album began with "Take  It As It Comes," as Adam pecks away at a steadfast acoustic guitar arrangement while he croons for everything he's got left in his soul.
Naubinway is the work of a seasoned, accomplished musician as the writing is far above average and the music transcends genre and style frequently. Adam Levy has well over 20 years of experience as a player with his band the Honeydogs, so he knows his way around a tune. Despite the tough, unfathomable personal turmoil in his life Levy has managed to concoct a record that lets in as much light as it does darkness. It's one of the best albums of the year as a result and one that requires many listens to discover all of its well-kept secrets.
9 out of 10 stars.
Pick up your copy of Naubinway on Amazon by clicking here.