Albert Cummings – Live at the '62 Center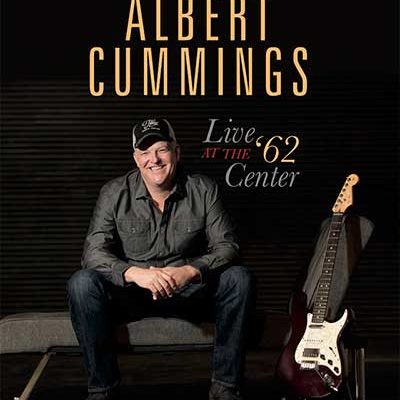 Massachusetts native Albert Cummings returns to his hometown Williamstown as a conquering king with the blistering live set Live at the '62 Center. His twelve song concert album blasts through an assortment of takes on blues rockers, slow blues, funkafied blues, all supported with colorful organ and occasional electric piano fills.
Cummings' guitar work is very forceful, but there are many melodic touches making their presence felt during this concert performance. He's complemented by some top notch collaborators who understand serving the songs and providing him with a sturdy platform ensures the album's excellence and his soulful bray is sweetened with some nice female backing vocals.
It's Cummings' first release since 2015's studio release Someone Like You and the live album emphasizes that Cummings is far from a performer reliant on covers. Instead, his original compositions pay tribute to the form while making intensely personal statements.
Most of the album is focused on Cummings' crowd pleasing blues rock talents. 500 Miles rumbles with mid-tempo authority and sounds convincingly outlaw without ever sounding self indulgent. It conveys all the specific details of the subject you'd expect and Cummings gets behind it with a rough-hewn vocal that never sounds cheap.
I've Got Feelings Too puts some of Cummings' best guitar work from the show up to the fore and growls with bare bones, tasteful lyricism. There's some real melody in what he does and he balances out quite nicely with the attitude in many of his songs.
No Doubt throws out some of his funky chops and the hopped up guitar work firing up the song is just one highlight; the vocals and lyrics tread familiar ground, but he gives both a level of personality missing from more workmanlike versions of the same material.
Hurts Me Too is his lone classic blues cover during the performance and it begins as a straight-forward cop of the original Elmore James tune before transitioning into a creative re-arrangement of its familiar strains. The restructuring works quite well.
Cry Me a River is one of a couple of slow burner blues tunes he takes his time with and the stretching out pays off with emotional impact that the rocker tunes never hint at.
Found You has a strong, muscular drive and a no nonsense approach that makes it one of the album's hardest hitting cuts. Movin' On has an equal effect, but it's even stronger thanks to a wider swing from the rhythm section and the fireworks Cummings generates working off it.
Live at the '62 Center closes with Glass House/Midnight Rider and the coupling of a Cumming original with an Allman Brothers cover works better than you'd ever expect. The female backing singers are particularly effective on the latter tune and contribute much to its atmospherics. Albert Cummings and his collaborators put on quite a show for the Williamstown audience and it makes for a thrilling listen from start to finish.
If you enjoyed a preview from Albert Cummings' Live at the '62 Center, check out his official website by clicking here. Give him a like on Facebook by clicking here & a follow on Twitter by clicking here.