bd Gottfried – Through The Dog's Eyes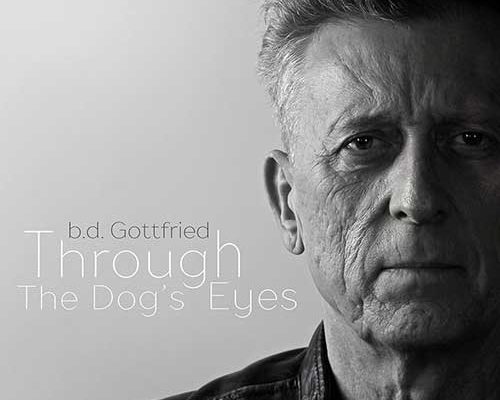 In 2017 – bd Gottfried is an edgy, uncompromised writer releasing his 8th solo album entitled: Through The Dog's Eyes – produced by Juno Winner Siegfried Meier. With airplay in over a dozen countries he continues to work in an unrestricted style with lyrical depth that will always take you on a journey.
Having a varied working background as a touring musician and session player. Working in the past with a vast array of artists such as Pino Palladino (Pete Townsend, John Mayer Trio). Breen Laboeuf (Celine Dion, April Wine). Greg Dechert (Bad Company, David Gilmour), to name a few. A longtime session player with string of his own releases that gets outright eclectic for a collection of brilliant songs that should get much wider exposure than he's been getting.
This record seems to bring him around full-circle with a collection of songs that stick together like glue, for a progressive but comprehensive outcome. Something You Weren't is as good as any way to lead off the set as any, and it delivers a sock solid opener. One of the stronger songs is always the best way to start off, and he comes out swinging pretty-hard with it. You get the feeling he has a prolific story to tell.
Some of the same echoes on Crosshairs but it breaks even more ground, even if it's not quite as good across the board. The layers are what do it for me, as is the case for any prog lover. It's hard telling what this is about, but you hear some inflections of artists that go without even saying. It keeps you wanting to hear what comes next, and that is where it gets cool in more ways than one.
With Blame It On The Money clocking in with some pop elements to entice ears for what is actually one of the easiest songs to digest, making it one of the hot spots, even with the obvious points of felt influences.
Eye Of Time almost starts off like a piano showcase, but winds up a vocal fest with Gottfried preaching something to the choir, but it's all stuff worth repeating in a song that sounds better than a conversation about time, history and the human condition. You feel right at home with the tales from a dream like sequence which mesmerizes at every turn in its outpouring of emotions. It says much the former track could never achieve, but they both hold their place on Through The Dog's Eyes, as the album itself holds well enough. Some of the tracks are just more worth describing than others.
Frequencies is another one that wraps around the ears like butter, in-fact more than most because of its groovy pace. There may not be a lot of lyrics to bring the vocals into the forefront, but they take a back seat without hurting the song. It could be considered on the dull side, but I find it to shine in just the right places to make it worth noting anyway.
Breakaway plays like one of the previous tracks, but it comes with some decent piano and guitar interplay that comes off with a blues shade, and it does get somewhat saved by the baritone vocals. "Incarnation" is the last point of interest on what is a great album that is top notch produced.
If you enjoyed a sneak preview of Through The Dog's Eyes, check out bd Gottfried's official website by clicking here. Give him a follow on Twitter by clicking here. Lastly pick up a copy of Through The Dog's Eyes on Bandcamp by clicking here.