Anomie Belle – Flux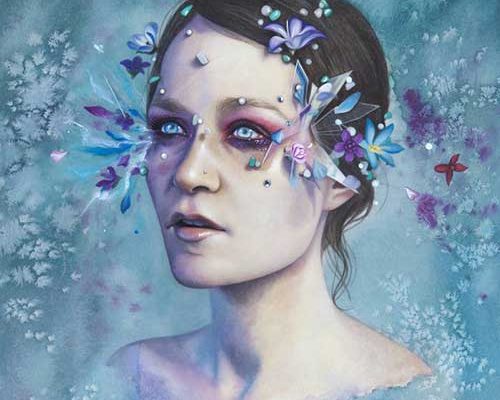 The release of Anomie Belle's debut album Flux and its accompanying art book marks the emergence of a major new songwriting and performing talent. She does a fantastic job juggling multiple styles without ever betraying a preference for one or failing to excel with these idiosyncrasies. There is a surprising amount of instrumentation employed on the album and it is always employed in an inventive, tasteful fashion.
Reactionary music listeners might believe electronica incapable of producing substantive musical art, but writers like Anomie Belle prove such ideas to be conclusive devoid of value. The production balances the competing elements without ever prioritizing one over the others and the running order shows real consideration for the thematic, if not outright conceptual, development of the album. Belle, as well, proves that it is quite possible to make serious personal and artistic statements while still providing an ample entertainment factor to draw in the casual fan.
Saturday Gives gives listeners an early example of her ability to bring classical and electronica music together into a compelling package. The vocals are evocative and emotional, yet they come at listeners with enough musical weight to compete with the instrumentation.
Right Way and As We Are open the album up to its considerable dance influences cut with a healthy dose of trip hop sounds. The lyrical message and, to a certain extent, the vocals take backseats here to the groove, but it's really Belle just using her voice in a different fashion than before. On songs like these, Belle's voice isn't a separate musical force working alongside; yet separate, from the backing track. Instead, she's part of the instrumentation and responds superbly to the different role.
As Summer Bleeds Daylight represents the album's artistic zenith. This is artsy while still pursuing an entertaining, accessible electronica sound full of color and melody. The vocal is particularly alluring.
She turns back to unbridled electronica on the song Tumult and produces a stormy, impassioned track with considerable commercial appeal. Beneath hails from the same general pedigree, but if anything, Belle's focus is even tighter here and the result is a track that truly gets beneath the skin and fearlessly explores its themes.
Perhaps the most naked performance on the entire album comes with the third from final song, The Good Life. Her emotional impact on this song is total and she gives herself over to the moment completely.
Flux ends with the superb and energetic swirl of We Let Ourselves In. It's a celebratory end of sorts to the album that returns the musical focus to a multi-faceted approach – there's trip hop, dance textures, and electronica working in concert together to form an impressive conclusion.
Few artists working today, veteran or otherwise, are intent on making a lasting impression like Anomie Belle. Her unusual intensity, diversity, and failure to obey stylistic rules cast her in the role of iconoclast when the artistic world, on every front, clamors for one. Dear Diving Bell Recording Company, please send us more Anomie Belle's to clear away the bullshit.
9 out of 10 stars
[soundcloud url="https://soundcloud.com/anomie-belle/lovers-1″ params="" width=" 100%" height="166″ iframe="true"/]
If you enjoyed a sample from Flux, give Anomie Belle a like on Facebook by clicking here & a follow on Twitter by clicking here.