B.B. Cole – Outgrowing Ourselves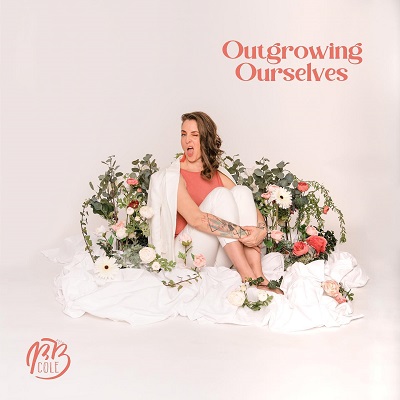 On the back of a rollicking country-rock groove, B.B. Cole wastes not a second in her mission to enchant us with the opening cut of her rookie LP Outgrowing Ourselves, "She Gave Me Feathers," which I would unquestionably name one of the edgier tracks on the record. What makes "She Gave Me Feathers" the right song to start this collection of tracks off with is its embodiment of the aesthetical spirit of the album as a whole. With its rootsy beat and soulful lead vocal, it gives us a good clue of what we're going to be in for in "Demons" and "Emotional Baggage" without revealing all of this singer/songwriter's tricks at once (of which, I should note, there are many on display here).
FACEBOOK: https://www.facebook.com/BBColeMusic/
"Some Kind of Religion" has all the lines of a pop single, but its cherished harmony is what makes it such an affectionate country anthem in a year that has been missing such releases, especially in the mainstream. Underground players have by and large been containing themselves to minimalism as of late, but Cole makes it obvious that decadence can be her friend when she conjures up the core harmony in "My Decision," which is one of my favorite moments in Outgrowing Ourselves. She's not limiting herself based on what the competition has been doing in 2022, which by itself makes hers one of the more intriguing contributions to the soundtrack of this summer as it stands this July. This is compelling overall, but all the more so when considering it's the first LP this artist has released.
"Pieces of Me" is a blues song at heart, but the way Cole is singing it to us makes it sound countrified and Nashville-approved. I don't think she's stifling her interests as a songwriter, but there is a touch of hesitance that I think she would do well to mitigate moving forward, especially in songs like this one. When I first listened to "Pieces of Me," it felt like the natural choice for the lead single because of how free of creative parameters it is. When I hear her in the chorus, running into a bed of catharsis around the 2:20 mark in the song, there's no disputing that the spotlight is hers and hers alone, and her comfortability with its brightness is nothing short of stunning.
"When I Was a Little Girl" is the only track that feels like a true segue song in this album, but what it sets up in the sexy "Wear Your Crown" gives its rather simplistic rhythm a purpose it just wouldn't have had otherwise. A rather stoic finish meets us in "Tears and Fears" that is a bit anticlimactic given all of the heat and melodic friction we're introduced to in the latter half of Outgrowing Ourselves, but then again, there's only so much we should be asking of young B.B. Cole at this moment in her budding career. What she's supplied us with is more than sufficient to earn her a spot in the big leagues, and I don't expect anything less than this in the future, either.