BD Gottfried – Onion Doves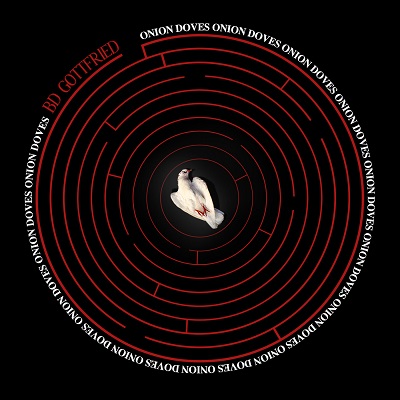 Concept albums are almost everywhere at the moment, from pop to hip-hop and back to rock n' roll, and while I think it can be said that BD Gottfried's new record Onion Doves is on the progressive side of things, it's not quite the conventional 'concept album' so many of us have come to associate with the mere branding. Across thirteen surreal entries, this tracklist envelops us in texture and tone that eclipse the presence of lyrics before they ever enter the fold, and as much as I appreciate straightforward pop songcraft, there's something very special about indulgence this good.
The continuity between the title track, "Dance of the Serpent Queen," the stunning "Earth and Air," and "Three Stories High" exists not through sonic props but via genuine chemistry, starting with the relationship between production style and performance technique. Rather than trying to wow us with a lot of overpriced polish on the master mix, I feel like we're getting a pretty raw – albeit intricate – take on BD Gottfried's sound here. It's gritty and uncompromisingly heavy in spots, emphasizing the physical elements in the music as much as it would the delicate nature of a soft harmony.
Lusty grooves can be found throughout the whole of Onion Doves, but those in "Romancers of the Dark" and "Comic Book Messiah" came across to me as the most emotive of this set. There's no backing down from the brutishness that Gottfried gets himself into with these arrangements, and truth be told, I don't think he wants to evade discord here. He's able to make too much of it to leave the chaos unexploited in the grander scheme of things, and from my perspective that puts him among a very unique class of rebels in rock still trying to keep alternative music relevant.
Onion Doves is admittedly one of the darker LPs I've reviewed this autumn, but it's also one of the few that feels imaginative no matter how many times I've listened to it. There's something new to peel back in this record's best moments, such as the aforementioned "Earth and Air," "Hurt," and "9th Line Beauty," regardless of how often you analyze the intricacies here, and though I'm still getting familiar with the work of BD Gottfried, I can tell right now that this isn't going to be the last record in his discography that I pick up for a review.
Check out BD Gottfried's website by clicking here.