Bob Lien – Color of Sky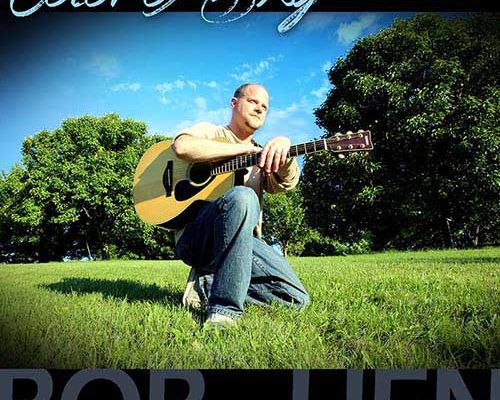 Singer/songwriter Bob Lien has bounced around a fair amount in his life, but the Minnesota native has learned much from his travels. The fifteen song effort entitled Color of Sky functions as a musical diary of sorts chronicling, for interested listeners, where he is at this point in his life.
He handled the writing chores for each of the songs and, as a result, the personality emerging from these songs has a distinctive, wild card quality reaching far beyond the usual cookie cutter offerings from middle aged folkies.
The stunning mix of classical elements with Lien's highly finessed, but direct, instrumental attack gives the collection an unexpectedly cinematic quality. Color of Sky is a miraculous work, in many respects, because it plumbs deep into its creator's soul without sacrificing even a second of entertainment in favor of his confession.
The title track opens things demonstrating that sensitivity and musicality that makes the album such a solid success. The melodic virtues of his folk music presentation with added strings are stronger than what novice listeners might expect, but they will be pleasantly surprised.
The album's second song, What I Ask To Receive, is another profoundly personal outing with aching sensitivity highlighted by his customary attentiveness to melody and construction. One of Color of Sky's strongest qualities, without question, is the solid fundamentals buttressing each song in a way not commonly heard on such work. It allows Lien that latitude he needs to pursue his distinctive stylistic flourishes, namely even attempting to bring classical elements together with folk rock sounds in such a full bodied way.
Every Road has a little more of a foreboding air than listeners have encountered on the album's first two tracks, but it isn't outright darkness. Instead, there's a rugged voice emerging from songs like this that speaks to struggle, but ultimately, it speaks just as much to our ability to outlast disaster long enough to earn a moment of reflection about it. It isn't presented in a heavy handed way whatsoever and Cyrus Rhodes' production does an excellent job of giving Lien a forum for his explorations.
Open Up The Windows has a wonderfully clearing effect not entirely separate from its content. This is a song about, in essence, starting over and while there is a darker undercurrent supporting it musically, the song embraces survival over surrender. There's even an exultant edge to Lien's vocal implying his own slightly incredulous joy at having made it this far.
Til You Kissed Me has an unusual approach – it's highly deliberate and plays with the arrangement a great deal. What opens as a plodding, scarcely melodic performance piece soon adopts a lot of melody, colorful string and cello work, and highly appropriate accompaniment from Lien's band.
Color of Sky finishes up with Lullaby which, as its title implies, is one of the album's more pronounced melodic moments. Lien builds this song with patience and his careful construction rewards listeners with the best possible ending to a memorable album.
9 out of 10 stars.
[soundcloud url="https://soundcloud.com/bob-lien/every-road" params="" width=" 100%" height="166″ iframe="true"/]
If you enjoyed a sample from Color of Sky, make sure to give Bob Lien a like on Facebook by clicking here & a follow on Twitter by clicking here.