Bobgoblin – Love Lost For Blood Lust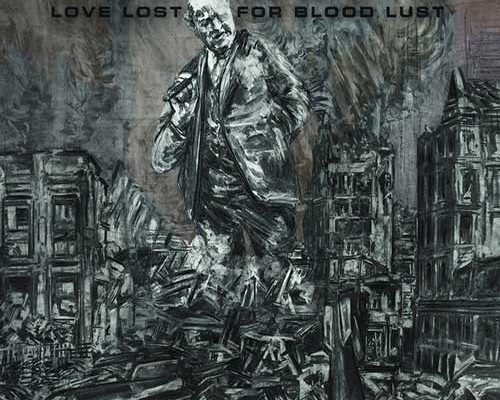 Punks not dead, nor will it ever be and you just can't beat a good sturdy punk track to help you walk taller, stronger and feel like anything is possible today or any day you choose to make something happen or force a dream.
There's a feeling and a purpose that comes with a meaningful punk album that evokes that confidence and self-worth in a person and with Love Lost For Blood Lust, Bobgoblin capture that on their first record in 14 years under the same name; and a great band name it is.
The 12-track album which was recorded and produced by the Texas band themselves is packed full of well-crafted energetic and interesting songs that sound fresh and new.
The opening track Feel No Pain captures what Bobgoblin do best; tight, melodic and hook riddled punk songs, always catchy and to the point giving them a jumped up power pop feel. The opening verse of the album kicks in with, "I don't know whether to sink or to swim, I cannot comprehend the shape that I'm in. I've been protected from all of the rules, and now they want me playing the game with the fools". These are lyrics for everybody; the outsider, the insider, the postman, the zookeeper, for whoever and a feeling that everybody understands and relates to.
The album as a whole is a tightly knit collection of songs with spot on production, giving the songs the clarity they deserve to reach their full potential. Every instrument has been recorded really well with a thumping and warm bass and drum sound making the rhythm section sound really strong.
The guitars are precise and give each track a feeling of completion and drive, particularly on Eternal Snow, the guitar tone is bright, warm and well-rounded capturing the mood of the track.
The same can be said for the closing track, I Know A Place which is a slower paced track that offers something a bit different from the band in the terms of the structure of the song which changes in tempo throughout and is a well thought out and recorded piece of work.
Vocally Litzwire provides a great fronting sound for Bobgoblin. His phrasing and tone are unique and feel personal and give the songs an emotional and vulnerable angle at times throughout the record.
Other highlights include Waiting For The Sun which has the great lyrics, "Under the clouds of an endless deception, we keep our heads up awaiting reception, hoping this is when the light will shine, your hand in mine", and the insanely pop punk feel of Eulogy For Daniel.
Love Lost For Blood Lust is a winner and is something that deserves to be heard. It moves along steadily throughout and offers strength, confidence and fun in spades. It sounds like a band that are comfortable and that have recorded the album they wanted to record in the way they wanted to do it. It's the sound of Bobgoblin, a great band and the essence of punk.
Make sure to give them a like on Facebook by clicking here & a follow on Twitter by clicking here.