C.K. & The Rising Tide – American Romance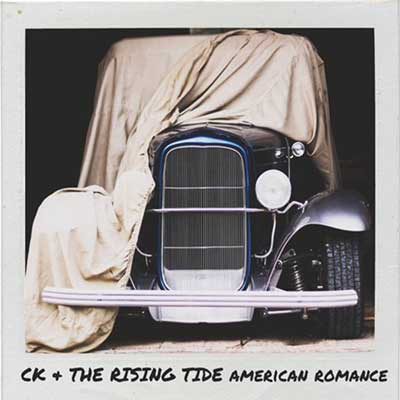 "I felt young and strong to say the least, and to me life was just like how it is on the silver screen; Where I put my arms around you and we fall into some wide-eyed forever thing the way that lovers do," C.K. Flach tells us in Road to Damascus, the first track on his band's debut full-length LP American Romance, available everywhere independent music is sold this summer.
In the wise, unrefined timber of their blistering guitars accented by gorgeous strings and brooding vocals, C.K. & The Rising Tide are staking their place in the future of pop music on this new record, and I must say, there is no doubt in my mind that their sound is among the boldest of all the non-Nashville country rock bands I've heard in this decade.
Friends follows up Road to Damascus with a rollicking, easy going harmonica and some bright chords that takes us on an enchanting adventure that evokes memories of our most uninhibited moments of recklessness among the kindred spirits we encounter in life.
Goodnight, Starlight draws us towards a much more contemplative style of prose that is perfectly synchronized to a melancholic arrangement of acoustic and slide guitars. There's an irreverence in Flach's stylized vocal attack that is a bit reminiscent of Midwestern jangle rock bands of the late 80's, but don't make any mistake about it; this is mostly straight up country dirge and observational indie folk at it's very finest.
The haunting ballad St. Vitus' Dance pushes us in a darker direction as American Romance churns us through a myriad of glimpses into the frustrations and yearning that come with trying to break out of a small town, fall in love, or just find the missing piece of the puzzle that we're expected to solve when we're born into this world.
Niagara Falls and Hey Hey Helena offer a slightly more upbeat vibe, but Flach's pondering and the rich production of the finished mix still add an emotional charge that can't help but create a sense of vulnerability for listeners.
Ironically, after all of the twists and turns of the previous nine songs, the title track offers C.K. & the Rising Tide's most stripped down, straight forward jam to date. Tempered under the white hot heat of classic southern rock riffage and featuring a stunning performance from their lead singer, this could easily serve as a standalone single and the band's signature anthem.
Overall this is an interesting selection of songs to put together in a single release, and although the transitions from track to track can sometimes be a little less than graceful, there's a general thematic cohesiveness that allows this record to play out like a solid set list to take out on the road with them (albeit a somewhat scattered one).
If you're a longtime country music fan who feels like the Nashville establishment has abandoned you aesthetically in the last few years, C.K. & the Rising Tide are definitely a unit that you should keep a close eye on. If the momentum that they've got behind them at the moment continues to grow, we can expect to see a lot more output from them in the next decade to come.
For more on C.K. & The Rising Tide, check out their official website by clicking here. Give them a like on Facebook by clicking here & a follow on Twitter by clicking here. Lastly pick up a copy of American Romance on Bandcamp by clicking here or on iTunes by clicking here.