Cameron Blake – Fear Not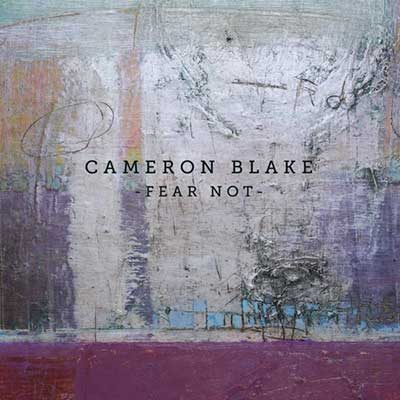 Personal experience and profound artistry provide Cameron Blake's second album Fear Not with all the gravitas it needs to loom as one of the year's most substantive releases. The dozen songs included on this release are unified by Blake's interest in the phenomenon of fear – how it disfigures, inspires, and impacts our lives and relationships. It doesn't gloss over these weighty topics with a shallow eye.
Instead, Blake's breathtaking eye for significant detail and his skill for getting inside of characters to reveal flesh and blood human lives is nearly unparalleled among modern songwriters, no matter if they are mainstream or indie.
Fear Not's musical strengths underline the thematic unity with a variety of performances ranging from rustic spartan invocations of traditional American music to art pop ballads propelled by piano and interesting compositional twists. His sound is consistent, but can scarcely be characterized.
Fear Not, the album's title song, sets the bar high. It is perhaps a little surprising that, considering his training as violinist, Blake is such an effective singer, but he proves to be an excellent interpreter of his own material on this song. Later songs further bear that out. Piano is a primary instrument on this song and many others, but there's a definite vein of quasi-classical sound he invokes with the use of strings here and elsewhere.
Rather than coming off like something pretentious or stilted, the approach enlivens traditionally accessible singer/songwriter material with a gravitas it doesn't often possess. He isn't consumed with self-examination however and, while the title cut definitely looks outward at the world around him, he has an equal talent for invoking place and character.
Songs like After Sally and The Only Diamond are incisive pieces both lyrically and musically; the former is a folksy sounding number with an exceptionally sensitive vocal and strong melodic features while the latter is cut from a similar cloth, but edgier, and more urgent. The lyrical content on The Only Diamond is particularly sharp and the chorus among the album's most memorable.
Balladic tendencies come to the fore with the track Fool's Gold and his talent for a telling lyric reaches an early zenith here, no small feat when compared to the high quality preceding it. His vocal is the real showstopper, however, and he's thoroughly engaged with the performance and phrasing in a way all too few singers are.
Tiananmen Square is a deceptively ambitious number. One cannot help but applaud, slightly in awe, any song that remotely, yet intelligently, touches on global issues looking at the micro instead of the macro. Blake's narrative talents are considerable and this song gives them wide berth in a ways music devotees will appreciate.
Old Red Barn has an unvarnished simplicity that, like the album's second song After Sally, has a folk song type of vibe. One of the album's more poetic tunes is Moonlight on a String, perhaps self-evident by the song title alone, but it also draws out one of Blake's best vocals, shot through with passion and intelligent phrasing.
Wailing Wail uses its religious imagery effectively and Blake's plaintive singing grounds the dreamlike qualities of the piece. He develops the lyric patiently, revealing its emotional and poetic depths at a leisurely pace, and it pays off enormous dividends for sympathetic listeners.
Philip Seymour Hoffman is an unexpected jewel late in the album's running order and avoids any of the uncomfortable sentimentality or trite musings you might think are coming when considering the actor's tragic end. The musical arrangement is straight forward and provides a perfect sonic landscape for Blake to bring these words to muted, but deeply felt, dramatic life.
Sandtown, the album's penultimate number, rates as the most sustained, hard hitting musical moment on Fear Not and features a number of compelling shifts in dynamics. The song is obviously influenced heavily by mid-late 20th century jazz and fusion, but Blake doesn't betray any reservations about the style and sounds quite inspired as a composer, lyricist, and singer.
This is really quite a confident release throughout and a total rebuke to any naysayers who think younger generations of musicians don't embrace the same artistic daring we associate with their iconic predecessor. This is a challenging and rewarding release in every fashion.
[soundcloud url="https://soundcloud.com/cameronblakemusic/fear-not" params="" width=" 100%" height="166″ iframe="true"/]
If you enjoyed a preview from Fear Not, check out the official website for Cameron Blake by clicking here. Give him a like on Facebook by clicking here & a follow on Twitter by clicking here.