Cat Dail – Fight For Love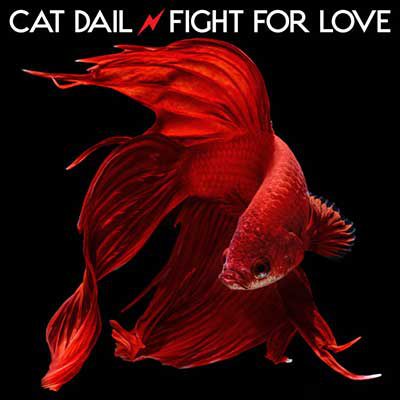 Although I just recently became familiar with her work, I must say that singer/songwriter Cat Dail's discography has been becoming a bit of a regular in my playlist lately. Her sixth studio album Fight For Love grabbed my attention immediately the first time that I gave it a spin as an indie pop/rock record easily in contention for album of the summer, and for good reason. Its excellent fusion of elaborate, mind-bending funk and quaint folk-rock guitar makes for quite the soundtrack to any lazy bonfire as well as it does a collection of anthems for those long hot summer nights that we come to relish during this time of year.
In the song Player, Dail recalls elements of Stevie Wonder and David Bowie in a thrilling throwback to the multi-track, spacy dance rock of 1970's AM radio. She's so stylish in the way she chooses to peek out from around each winding bend in the rhythm of the song, like a nimble, ghostly cloud of smoke that can disappear with into the either at the gently push of a light breeze.
Her bravado is almost noir like; understated, minimalist, and yet larger than life when you take her prose at face value. Is she trying to be an enigma, or is it just that this variety of artistry is so wonderfully zany by design that it would be wrong not to give it an extended examination?
As a music journalist, I've made my living breaking down the little details of tracks from artists making everything from glazed over, polished pop music to jarring, visceral noise rock, and I've come to appreciate when an artist takes extra care in assembling an intimate, vulnerable recording that lives up to the production capabilities that we've got available in 2018.
While I would have probably scooped the mid-range a little more in Catch Fire to emphasize the elegant timber in Dail's voice and maybe minimized a couple of the additional guitar parts in She Can Fly, overall the work behind the sound board on Fight For Love is spot on. That's particularly important when you're listening to an artist as multidimensional as Cat Dail, because when we've got the clarity of high definition stereo, we're able to appreciate the intricacies in her craft that make her one of the most provocative and intriguing listens in the New York City indie scene.
Anyone looking for a different kind of rock music to celebrate the season of sun would be wise to check out Fight For Love the next time that they're in the market for new music. Unlike many of her contemporaries, Cat Dail isn't afraid to try on different looks and push herself into unknown territories to create authentic, thoughtfully-composed tracks.
Whether or not she's making a chart-topping single isn't really the point; there's feeling in her work. Emotion, passion. I don't feel like I'm listening to some kid playing around with Pro Tools software. I feel like I'm listening to a singer/songwriter expressing herself through one of our most beloved an ancient mediums – music.
For more on Cat Dail, check out her official website by clicking here. Give her a like on Facebook by clicking here & a follow on Twitter by clicking here. Lastly pick up a copy of Fight For Love on Bandcamp by clicking here.