Chagall Guevara – Halcyon Days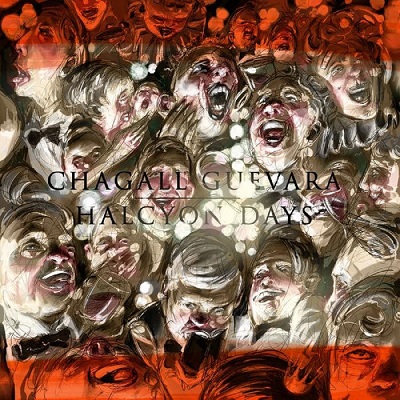 I'm going to skip over much of a history lesson about Chagall Guevara in favor of talking about their new album Halcyon Days. That's what's current, that's what's on the table now, and reveries about near-misses with glory don't serve any purposes. This group of onetime roots/indie rock darlings has reconstituted themselves for another swing at the big time's remnants with an eye likely looking for steady live business for the band.
Don't think, however, that Halcyon Days is nothing more than a product. Guevara are hot-wired into the world like a raucous alt-rock band two decades their junior and adding their experience makes for a combustible blend.  Young musicians could surely equal the stormy energy driving album opener "Resurrection #9", but what they can't touch is the nuance and hard-won wisdom present in the lyrics and vocal delivery.
Matt Wallace's production captures the band's surprisingly multi-faceted sound throughout Halcyon Days. The backing vocals and irrepressible bounce of "Got Any Change?" is far removed from the near-tribal stomp of the album's first song. It's a briskly paced number with a slight punk rock vibe running beneath the song's surface and bassist Wade Jaynes is a particular standout. His rhythm section playing with drummer Mike Mead continues setting an undeniable tone with the track "A Bullet's Worth a Thousand Words".
It's coupled with the song's wiry guitar that listeners get the full effect. Lead singer Steve Taylor reinforces the song's moodiness with one of his best vocals and the outright menace he achieves during some lines, never overexaggerated, brings a new face to the album. "Still Know Your Number By Heart" is a song with lyrics straight out of rock and roll central casting. It has plenty of charm, however, despite the often frantic guitars and the backing vocals sweeten the song without making it saccharine. The title track is one of the album's highlights and Chagall Guevara does a great job building it from an acoustic bluesy start into a wide and hard-hitting swing.
"I, Madness" is a great screamer and has slow simmering energy. It's raw and never abrasive. Guevara never shies away from thorny subject matter, and this is no exception, but they're always certain to write about those topics with a peculiar twist all their own. It's the case here. "Treasure of the Broken Land" sounds like the band wrote the song zooming across the Southwest in a van. It's an outlaw song in spirit, on the run, and the tightly wound rhythm guitar does a lot to keep it humming along. It's a rousing way for the band to finish up this release and shows them putting off just as many sparks headed for the exit as they did coming through the front door.
It's no exaggeration to say Chagall Guevara puts out take no prisoners rock and roll. It's nice to remember what a real rock band sounds like – not just stuck in one gear, but rugged and ready to go. Their album Halcyon Days is ready, that's for sure, and there's surely more from where it came from. Let's hope they remain with us for years to come.