Chrystyna Marie – LIFE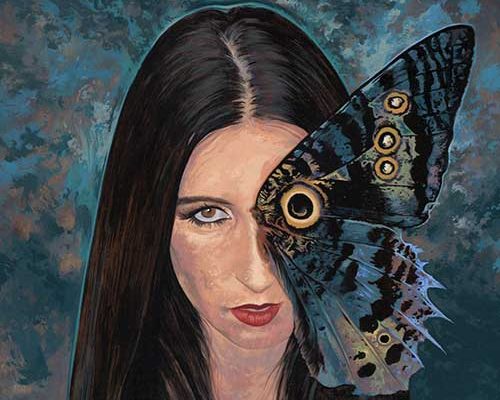 LA-based (by way of Toronto, Canada) blues rock/pop artist Chrystyna Marie shakes it up on her latest album, titled LIFE.
Like the tumult of existence itself, Marie segues from dramatic tracts to reflective pieces, and vice versa, always letting her heartfelt thoughts and emotions shine through the lively to calmer accompanying instrumentation.
LIFE was delivered on July 24th and it displays a fresh perspective on Marie's personal experiences that is relatable to the everyday obstacles, triumphs, and desires we all go through.  The album showcases Marie's adept range, not only vocally, but instrumentally as well.
Lead single and album opener I Want That Boom Boom is a wild, but seductive country/blues-rock romp with Marie assertively exclaiming about being "between the sheets" and liking it "rough and wild" or "sweet and slow."
On second single Mr. Insecurity, Marie goes the smoky torch number route, shaping the lyrics into rounded and drawn out words that unfurl from her lips in a rich and deeper tone.  She deplores that, "You don't know who to follow / You believed in all his lies."
The Witching Hour shifts stylistically into the country/folk genre with picked banjo notes bolstered by burning electric guitar grit and Marie's more ominous vocal delivery.  She sings about being at the "crossroads" and how "…you can lose your way."
Soul-vibed A Woman Knows pumps along with bright, brassy horns and a laid-back groove.  Again, she molds her supple vocals to suit the style of the song; this time low and funky.  Rousing honky-tonk album closer Stop Stoppin' Myself is Marie's declaration to break free from self-doubt and insecurity as she admits, "I'm the only one standing in my way."
[soundcloud url="https://soundcloud.com/chrystynamariemusic/want-that-boom-boom" params="" width=" 100%" height="166″ iframe="true"/]
[soundcloud url="https://soundcloud.com/chrystynamariemusic/mr-insecurity" params="" width=" 100%" height="166″ iframe="true"/]
If you enjoyed the 2 song preview from LIFE, check out the official website for Chrystyna Marie by clicking here. Give her a like on Facebook by clicking here & a follow on Twitter by clicking here.