Conor Gains – Compass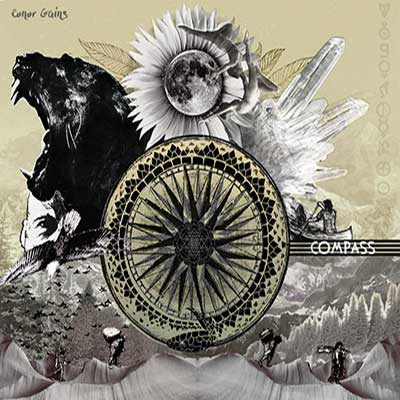 It's difficult to imagine the 1960s in America without the culturally altering soundtrack that accompanied it. The wailing guitar of Jimi Hendrix, the pastoral pleading of Joni Mitchell, the pointed sarcasm of John Lennon. These are the figures who shaped an entire generation of pop culture and every generation that followed them. In some we can see this influence more apparently than in others. And then we have Conor Gains, Canadian singer/songwriter and multi-instrumentalist extraordinaire.
Conor is a descendent of those big names, but more than just being musically influenced by the social icons of the 60s, he carries on the tradition of revolution through music and the heart-stopping melodies within it. Music has the power to change the world because music is the world; music isn't just a part of the conversation, it is what the conversation centers around.
And in this world we live in, Conor Gains offers a little bit of emotional navigation in his brand new LP, Compass, available everywhere now. This singer/songwriter's lofty ambitions are met and exceeded with sublime beats and harmonies on his debut record, which is burning up the indie rock community on both sides of the border.
Compass fits in well with the college rock landscape in the states at the moment. In the last couple of years, thanks to the advent of artists like Conor Gains, the indie scene has experienced an explosion in new genre-bending music that follows no one's rules on what constitutes a song.
These exciting new sounds are represented with a ferocious howl on Compass, twisting and contorting between jazz, blues, rock, R&B, hip-hop and world music. So many influences and styles in one place could prove problematic for an albums consistency for some artists. But then again, Conor Gains is hardly "some artist." We are after all talking about a guy who was asked to play alongside the legendary Les Paul (yeah, that Les Paul) at just 15 years of age. This guy has the chops, and he's had them all his life.
Just take a listen to I've Been Looking for Your Heart and it's tension building drums that release when pierced by the vocals and somber piano, or Ordinary Love and its danger-laden hubris that blends spectacular guitar play with sophisticated rapping and divine lyrics that reminisce over the individuality of love.
Mexico, perhaps the most captivating moment on the entire record, leaves a protracted impression that makes me feel like there was a lot more material Conor had in the vault when he sat down to make this record, and this is just a sampling of what he is capable of.
Elegant and yet earthy, honest and yet at the same time deceptively simple in his poignancy, Compass exhibits not only the jubilant state of college/indie pop-rock, but also revives the life and dedicated musicianship that lifted soulful blues out of the bayou and into the American music lexicon.
For more information on Conor Gains, check out his official website by clicking here. Give him a like on Facebook by clicking here.