Corinne Cook – Dressed Up For Goodbye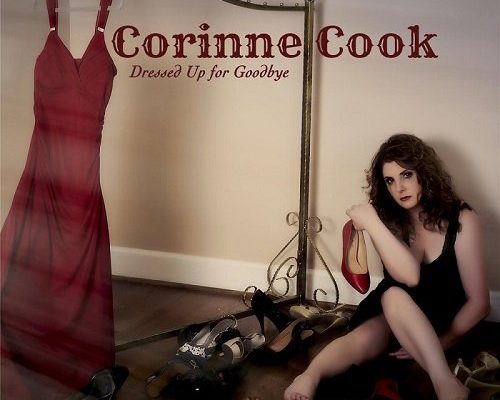 Corinne Cook's Dressed Up For Goodbye was released in 2015. This album contains a mix of acoustic melodies along with twangy guitar beats that gets a little groove going. The album opens many visceral tunes; from strength to heartbreak, you feel the emotion that is being conveyed.
The singer seems to really stand out as one of the newer contemporary voices that have come into the field of country. She seems to put in a lot of work into this particular album after her previous successful albums with I'm Not Shy and Uninvited Guest becoming chart toppers though she had very limited time in the studio. This time with her production of her third studio album Dressed Up For Goodbye she put in more effort than ever. She personally handpicked the songs that were to be included on this record.
The song Little Miss Understanding is the one that really adds twang to the album. The strumming gets the beat going. The song conveys the complete confidence and strength that one can have.
Dirty Little Secret is another very high energy song and the vocals present a lot of sass. Even with the record including these sassy guitar tunes, it does not stray from its roots.
Songs like He Loves Her Like Crazy and Cowboy take you back to your typical country roots. Cowboy sounds very pleasant and casual and does not involve much of an ear strain. He Loves Her Like Crazy seems very common, and there are points in the song where it comes across as a little predictable. Corinne also uses the best of her vocals for a very carefree song. Turning Off The World is a lighter song compared to the heightened emotion in the previous tracks. This song has a very carefree tune.
Of course this record has beautiful ballads written on it. Who and Dressed Up For Goodbye are mid-tempo ballads that add a nice touch to the album. The vocals are on point and sound delightful in the ears. Corinne decided to also take upon some blues in this album and attempted a mixture of blues and country which worked out splendidly with Lord Have Mercy.
Coming to the last few songs, these songs are ballads head to toe. Fall Apart is a song that has heartbreak written all over it. The whole song is very melodious which fits with the lyrical backdrop. The vocals hold out in various parts of the song; highlighting the emotion behind the melody.
Long Before Goodbye is another ballad. It is very simple and to the point. There are not too many instruments in the background, the melody is sad and portrays the sadness of the song.
Coming to the all-time favourites of this album; I Don't. I Don't is a beautiful song that just plays out in your ears. It's a real treat to listen to. The add on vocals of Paul Scott compliment every flavour in the song. And then, just before you think you had enough of this song, the dish becomes complete with an additional band version of this song.
This album is honestly a delight for the country souls. The sprinkles of different styles are a real treat. Corinne clearly has a way of making ear wrapping music. She has a very bright future in the music industry. Let's see what she has to give further!
7.5 out of 10 stars
[soundcloud url="https://soundcloud.com/corinnecook/i-dont-band-version" params="" width=" 100%" height="166″ iframe="true"/]
If you like what you hear from Corinne, make sure to give her a like on Facebook by clicking here & a follow on Twitter by clicking here.