Donna Ulisse – Breakin' Easy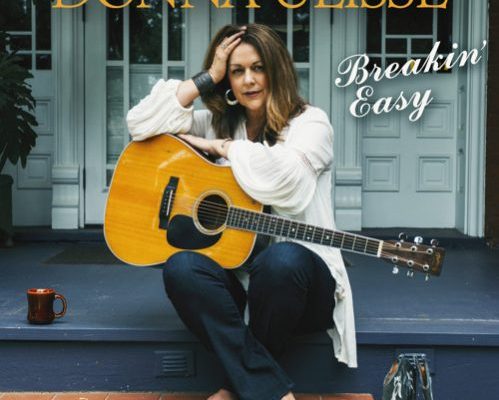 Bluegrass and classic country circa 2017 doesn't really get any better than Donna Ulisse's Breakin' Easy. This is a solidly traditional minded effort that leaves no stone unturned in its desire to explore roots music with a distinctly modern energy. The album isn't unremittingly cheerful, but Ulisse is clearly not at home with despair and strikes an often hopeful note without ever sounding too corny or sentimental. It's a nice change of pace from the typically dire affairs populating the genre and Ulisse is a great interpreter of material with this sort of emotional tenor.
The iconic Doyle Lawson's contributions as producer means that an experienced hand helped Ulisse shepherd the album's sound and aided developing these tracks in the most organic mode possible. Much of Breakin' Easy sounds cut live in the studio and the intimacy of the performances makes a significant impact on listeners.
Without Trouble Please is a song full of earnest yearning for nothing more than a break from bad luck. Multi-award-winner, Ulisse gets that chin up, bright-eyed hopefulness and foregoes any of the weariness the lyrics might suggest. This is a largely bluegrass track and recorded with an ear towards clean instrument separation and a balanced musical attack.
Drive This Cold Out of Me is from the great tradition of weepy country balladry and the mournful touches of steel guitar further reinforce that point without ever sounding cliché. It's one of the album's finer lyrics, as well, and stands apart thanks to its directness and plain-spoken language. The same principles governing her musical arrangements, an ear turned towards economy, are found in her approach to lyric writing – there's not a single extra word you'll find in any of the album's songs.
A Little Past Lonely is cut from similar cloth. The songwriting shows Ulisse's obvious familiarity with a wide swath of classic country styles and the occasional rueful, fatalistic humor that marks some of the genre's greatest tracks. Harmony vocals add a lot to the album's songs as a whole and their effect on this track is quite positive.
Baby Back Again is one of the album's more tenderly wrought moments thanks to its delicate guitar and a careful, yet eminently soulful, singing performance from Ulisse.
She hits one of the album's finest moments with the song We Are Strong. The writing really makes this fly in an unexpected way thanks to the fine imagery she employs to embody her message. It's apparent that, in clumsier hands, this song might have fallen into hilarity, but Ulisse keeps her song between the lines and gets across an inspiring message without ever trying listener's patience.
There's some melancholy fiddle weaving its way through the arrangement on Whatever Winter Brings and it provides a nice melodic accompaniment to the customary acoustic guitar. It's the vocal, however, that once again steals the show and Ulisse shows herself to be a master of mood.
Breakin' Easy does break easy – there's nothing here that comes on too strident, heavy handed, or light-footed. Donna Ulisse sings with wide open zeal throughout the entire album and brings her own personality to bear on Breakin' Easy and it makes the release one of the best Bluegrass or Americana albums in the last decade.
[soundcloud url="https://soundcloud.com/donnaulisse/we-are-strong" params="" width=" 100%" height="166″ iframe="true"/]
If you enjoyed a preview from Breakin' Easy, check out the official website for Donna Ulisse by clicking here. Give her a like on Facebook by clicking here & a follow on Twitter by clicking here.