Elizabeth Sombart – Singing The Nocturnes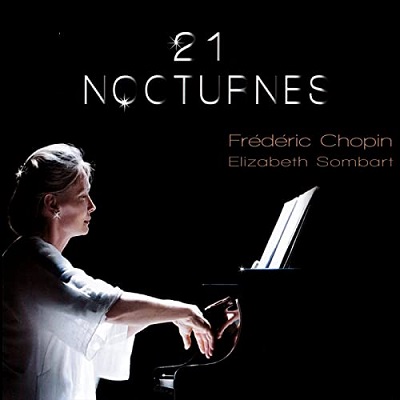 Throughout her impressive career, pianist Elizabeth Sombart has made it clear that she's quite the authority on classical piano theory, especially with regards to the angelic sounds of Frédéric Chopin. Her work has taken her around the world, and in her latest offering – Singing the Nocturnes – she returns to Chopin's Nocturnes for what could be her most moving collection of performances thus far. Although embodying the classical spirit of their late composer more than anything else, it can be said that the movements comprising Singing the Nocturnes have the unique touch of Sombart as well, whose individual style has come to stand out as a unique element both in and outside of her circle of elite piano players.
The focus that this artist has when she's in the heat of the moment is absolutely stunning, and I think that Op. 15, Op. 37, and the posthumous No. 20 in C-Sharp Minor present us with what could be Sombart's most endearing play here. She's got her entire heart invested in the carefully composed structure of every song we find in Singing the Nocturnes, and yet she's never giving herself over to the indulgent experimentation that a lot of her peers have when taking on content as storied and outright legendary as this is. The Nocturnes are a special treasure chest of tried and true brilliance to all of us, but they get a superb polishing courtesy of this pianist in her latest (and perhaps most complete) LP thus far.
Try as some might, there's just no replacing the classically-trained stylings of a player like this one in the case of "Op. 62 No. 1-17" and "No. 2-18," both of which read like an extension of self that you normally only find when sitting in a concert with someone like Elizabeth Sombart. Not only does she have the elegance of someone who has been in this world for the majority of her life, but she's acting like a pianist who still has something to prove; if not to the audience or a critic like myself, then to herself, likely the strongest of critics she's ever encountered. Discipline and decadence share a tracklist in Singing the Nocturnes, and I can't say I've been able to remark as much about any other album I've heard this year.
I hadn't been following Elizabeth Sombart's recent exploits until a month ago, but seeing as she's only gotten better and more accomplished at her medium through the years makes me confident we're going to be hearing some of her best work in the near future. Singing the Nocturnes is already quite the bar-raising effort in my opinion, and as a cultural tribute as well as a closer look at the material that has shaped so many of classical music's most eclectic wing of great performers, it feels like a record of deep significance. And that's not just for Elizabeth Sombart, but really anyone who has a passion for the classical genre and one of its most prolific contributors.