FXRRVST – May XXVI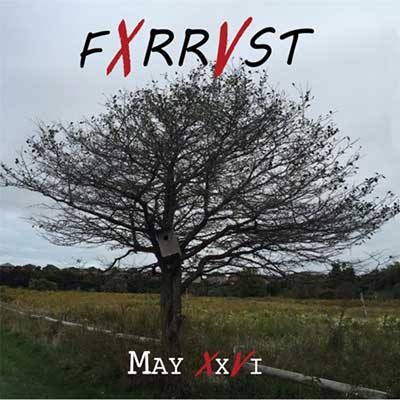 FXRRVST's nine song first studio release, May XXVI, will likely end the year as one of the more creative efforts in guitar-centric music. Their impressive mix of alternative rock poses along with top shelf attention paid to melody and vocals isn't necessarily overtly commercial in tone, but there's certainly an effort made here to appeal to a wider cross section of potential listeners than what we usually encounter with similarly aimed efforts.
Holly Forrest's vocals glow with equal parts charisma and dramatic weight, but she also has more than ample chops and technique to facilitate getting the duo's material. Her partnership with Matthew Fuentes has only been active since 2015 and this release is evidence of their ability to plumb remarkable depths in a relatively short amount of time. The intimacy and far-reaching ambitions of this album are very real.
There's an excellent mix of sounds in the first four songs on May XXVI that offers listeners a virtual panorama of the duo's musical heart. There's room enough under their artistic tent for the singer/songwriter stylings on songs like Parks and the first track Road to Nowhere while Drown Me shows off their often atmospheric guitar rock attack and the song Picture Frames does an excellent job of blending the aforementioned approaches into an unified style.
The folk style is strongest on the song Parks and glowingly adorned with harmonies while it is much more conventional and straight forward with the tune Road to Nowhere. Matthew Fuentes has a great guitar sound on Picture Frames, but it comes to full bloom on Drown Me and they generate enough heat with that track to convince any doubters about their ability to invoke a full on alt rock sound.
The commerciality of Drown Me continues with the first single Tidal Wave, but some of the duo's melodic sound creeps into this performance that we don't hear in the former tune. The highlight of this performance and Lovely alike is a show stopping vocal from Holly Forrest and it lends an intensely human quality to arrangements already brimming over with life.
The singer/songwriter feel gets another full invocation with the number Safe House and, despite any hypnotic qualities it may possess, there's definitely a touch of the lyrical propelling the acoustic guitar as well.
Roofs closes the album with a final shot of daring as the duo formulates, arguably, their best mix of colliding styles on May XXVI. It isn't every song that can mix traditional instruments like mandolin with an assortment of tempo changes, rambunctious electric guitar, and a forceful band performance and still come off as a coherent musical experience, but they manage it with room to spare on this song.
The power and imagination in FXRRVST's May XXVI puts them in rare company for an artistic unit with such a short history, but it isn't unheard of that a near perfect artistic partnership can emerge so early on. There's little question that this should rank high among a year full of impressive indie releases.
[soundcloud url="https://soundcloud.com/fxrrvst/tidal-wave" params="" width=" 100%" height="166″ iframe="true"/]
If you enjoyed a preview from FXRRVST's May XXVI, check out their official website by clicking here. Give them a like on Facebook by clicking here & a follow on Twitter by clicking here.