Gina Clowes – True Colors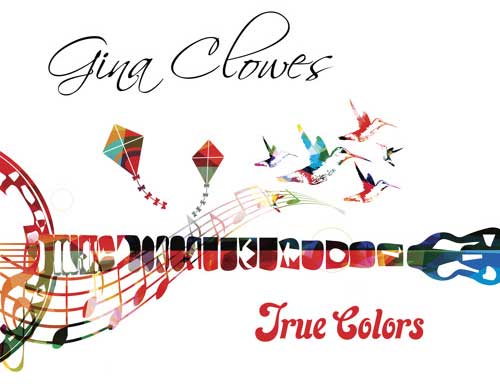 True Colors is the first solo effort from Gina Clowes, banjo player for Chris Jones and the Night Drivers, and the twelve songs on the album rate as some of the best material coming out of the modern bluegrass scene. Rather than slavishly devoting herself to recreating classic sounds with the expected subject matter, Clowes recruits some excellent collaborators and makes this collection speak about her personal experiences and journey instead. The effect it has on the material is notable.
Using these traditional musical poses of bluegrass as a tool for self-exploration pays enormous dividends, but she never neglects the vast wealth of tradition in the genre as well and those time-tested elements come off with every bit of the credibility you'd expect. True Colors is a strong effort from the first track to the last and the songwriting driving the collection is every much as important as the musical prowess making it all go.
The aforementioned prowess is on display from the first. Puppet Show kicks off True Colors and one can certainly make a case that this is among the album's most fully realized numbers. The musical arrangement and lyrics alike are powerful and artfully handled. This is modern bluegrass; not merely a way of celebrating a way of life now largely confined to history books, but a vibrant musical style that still serves as an effective way for songwriters to communicate their experiences. The twin banjo attack of Clowes' traditional chromatic playing juxtaposed against her brother Victor Furtado's claw hammer style gives this song added flair.
There's lots of affection coming across in the title song. The arrangement and vocal accentuate that with their bouncy lilt and there are a number of inventive musical turns here illustrating the talents of the musicians involved.
Dust Can Wait is the second of the album's instrumentals and one of the album's overall high spots thanks to the exuberant, defiant performance from the band. The musicians invoke a strong life-affirming vibe with this song that's impossible to ignore.
Guest vocalist Scott Brannon takes the lead on Good Old Fashioned Heartbreak and receives some well chosen, perfectly handled harmony singing from Chris Henry. While this might be a song about disappointment and separation, Clowes and her guest stars play it surprisingly light and it creates an unexpected balance in the song's presentation. This is one of the album's more well-rounded songs and has some beautiful singing from both guests, particularly in harmony.
I'll Stay Home is a much more folky minded tune than we are used to on True Colors and wildly successful. It's a mark of a quality songwriter that she can convincingly wear so many hats.
The lone cover on True Colors ends the album and it's a wondrous reading of Nina Simone's Beautiful Land that finds Clowes' interpretive powers at their zenith as she makes this venerable tune work quite well within a bluegrass context.
True Colors shows Gina Clowes' own true colors – she's an artist in every way and this likely represents her greatest work to date in any configuration.
[soundcloud url="https://soundcloud.com/ginaclowes/puppet-show" params="" width=" 100%" height="166″ iframe="true"/]
If you enjoyed a preview from True Colors, check out more on Gina Clowes by clicking here.