Hughie Mac – Hughie Mac Sings Some Great Songs, Volume 4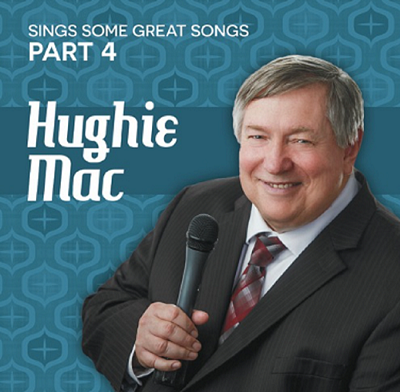 Hughie Mac has built a sturdy reputation in recent years as a skilled interpreter of a sprawling set of classic compositions. His selections comprise the American songbook in a much broader fashion than similar efforts from higher profile performers such as Rod Stewart, as an example, and that takes courage. It isn't easy shifting from the torch song love and loss of Frank Sinatra covers to the sunny wit of Jimmy Buffett. Hughie, however, makes it sound easy on his latest release Hughie Mac Sings Some Great Songs, Volume 4.
He opens with the renowned staple "Almost Like Being in Love". The DIY nature of Mac's recording is apparent through each of the album's twenty-three songs though never in a detrimental way. It's impressive to hear how the tandem of his voice and the largely pre-programmed backing achieve such improbable fullness. The bulk of responsibility for this falls on Mac's voice. He captures the seat of your pants feeling infatuation produces without ever coming off overwrought.
The carefully rendered emotion of "The Twelfth of Never", a popular song in its heyday, does sound dated in 2022. Its simplicity, however, proves touching. Mac excels with songs such as this where the songwriting pares language down to its essentials and allows him to live with and inside of each line. He does acquit himself quite well, however, with much more modern songwriting such as "Changes in Latitudes" and the later "Cheeseburger in Paradise". One of the keys for making Buffett's material work is treating them without a degree of irony and Mac concurs. His performance, however, packs plenty of brio and approximates Buffett's original without ever slavishly copping it.
His take on Glen Campbell's "Galveston" does a fantastic job of capturing the song's near-cinematic potential. It's another example of the confidence Mac brings to the release. Not everyone would necessarily have the required chutzpah to serve up there own version of this, the venerable "My Way", and iconic "Fly Me to the Moon", among others. Mac doesn't shirk from the challenge.
He sings "My Way" with obvious respect for 'Ol Blue Eyes signature tune, but there's also a side to his performance that approaches it as if he's the first person to try. Its lyrics clearly possess the same sort of meaning for him as they did for Sinatra, albeit in a different context, of course. "Fly Me to the Moon" succeeds for a few reasons, but chief among them is that he brings the same measured energy to his phrasing. The care in his vocal helps emphasize the splendid, if underrated, poetry filling such a song.
"It Had to Be You" is one of the late highlights. It's a safe bet anyone over the age of thirty-five has heard this song innumerable times, including Hughie, but he treats it like a fresh experience with an old friend. There's nothing cookie cutter about his treatment here or elsewhere. Hughie Mac makes a great impression once again with the fourth volume in his Sings Some Great Songs series.
URL: https://www.hughiemac.com/
SOUDCLOUD: https://soundcloud.com/user-271952191