Ian Bouras – Absence (live looping)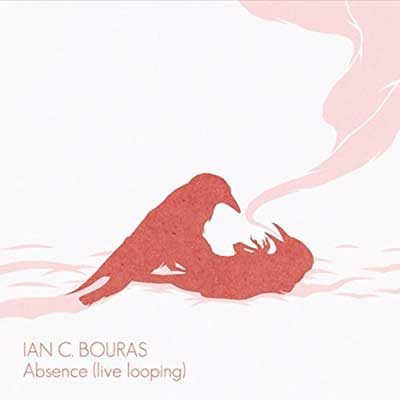 Absence (live looping) from SDMP Records is the latest solo release from sound auteur, songwriter, and guitarist Ian Bouras. Bouras has been a fixture on the New York City music scene since his rock/reggae outfit AñaVañA debuted in 2004. Much has happened since then. AñaVañA recorded further well received work, Bouras received a degree in audio engineering, and he parlayed the last achievement into a busy slate of freelance producing and mixing for a variety of projects.
His first solo release through SDMP Records, 2007's A Cure for Reality re-introduced Bouras to listeners as, essentially, a one man band and production team capable of covering multiple bases without ever losing anything in his presentation. The fourteen songs on Absence (live looping) are guitar instrumentals and, though they are adorned with a small army of electronic effects, Bouras rarely turns away from his penchant for a strong melody and certainly invests each of the songs with a palpable emotional tenor.
He puts his melodic foot forward first. The opening duo of cuts While You Were Gone and Trappings of Oblivion have clear melodies emerging from the first. These are straight up mainstream melodies only fashioned differently thanks to the use of guitar effects and they never twist the sound in such a way as to render it alien even to those unfamiliar with instrumental releases.
Conversations with Strangers begins with an ominous intent, seemingly, but some higher register notes lighten the mood a little. The feeling of foreboding continues, however, and the initially spartan arrangement becomes more dynamic and cluttered as the song progresses. There's some ambient touches present in the song's second half.
Silent Life has scant melody, but it's a successful tune nonetheless thanks to his ability for structuring the notes in such a way that they create a sonic narrative of sorts.
The album's longest track, clocking in at a little over eight minutes, is Words Never Whispered and it succeeds in no small part thanks to the mix of melody and suggestive atmospherics. The spaces in Bouras' playing on Absence are just as important, if not more so, than what he actually does play.
Fear of Sleep introduces a clearer guitar line and a bit more pacing along with a measured dose of percussion. The hypnotic repetition we hear in the song seems quite appropriate considering the title.
Haunted by the Memory of You seems to continue some of the same moody motifs heard in the previous song without any of the extra sonic elements distinguishing the earlier tune.
There's a nearly unadorned delicacy defining the sound of The Art of Suffering Alone and it makes for one of the most unexpectedly affecting moments on Absence (live looping).
It's going to be, undoubtedly, a challenging listen for some thanks to the unique textures Ian Bouras invokes, but Absence deserves consideration as one of the finest instrumental albums in recent memory and definitely plays by its own rules.
[soundcloud url="https://soundcloud.com/sdmprecords/the-art-of-suffering-alone" params="" width=" 100%" height="166″ iframe="true"/]
If you enjoyed a taste of Absence (live looping), check out the official website for Ian by clicking here & give him a like on Facebook by clicking here.