James Patrick Morgan – Art + Work = Love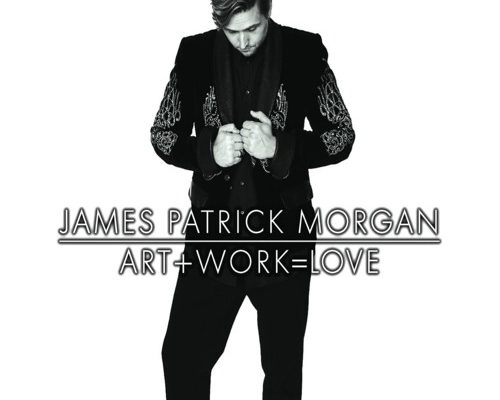 Art + Work = Love, James Patrick Morgan's debut EP, is a five song outing presenting one of the most versatile singer/songwriters to emerge from the indie pop and soul scene in recent years. His vocals are a major highlight of each song, but the instrumentation and lyrical content are similarly engaging.
Morgan never adopts a lowest common denominator approach to songwriting – instead, her compositions are substantive as well as catchy and ingratiate themselves with listeners thanks to accessible lyrics, stylish delivery, and undeniable hooks. They sensibly move from one passage to the next without taking any short cuts and are invested by high quality production vividly rendering every sonic detail. James Patrick Morgan will garner a lot of much deserved notice for this collection. It's a memorable and intelligent first offering laying the building blocks for a promising future.
Songs in this vein never come much better than Expected. This is highly expressive and burns with tremendous verve from the outset, but the heart of the performance is Morgan's singing. It takes over the song with a zestful, but exquisitely artful touch, and moves through the arrangement with the same groove-centered swing the tempo locks onto.
It's also an excellent example of how Morgan combines adult subject matter with streamlined and strongly modern musical textures. Despite the modernity, James Patrick Morgan's songwriting clearly exists within a tradition, but his direct influences are so completely subsumed into his individual vision as to render them all but indistinguishable.
Alone takes a sharper turn towards outright pop thanks to its keyboard and synthesizer dominated arrangement, but it's given extra energy thanks to the infectious pace and Morgan's vocal assurance. His singing creates a striking contrast between the lyrics, music, and tone.
Sign Language is one of the EP's most dynamic musical platters.   The opening devotes itself to scene setting by bringing together Morgan's voice with some atmospheric piano, but the music quickly assumes new proportions when the songwriting juxtaposes a much faster percussion tempo with the introduction of the full band.
He hits another peak on the song Right Mistakes thanks to its fiery guitar work and the brisk pace, but Morgan's impassioned vocal and his fearlessness in tackling the subject matter is quite invigorating. It's interesting to hear how ably he tackles the rock leanings of this track.
Fly Like an Eagle is one of the best covers of a classic rock tune that you'll hear in recent memory. This is partially because Morgan adheres to just enough of the original while still pursuing his own creative vision for the song. This approach results in a song every bit as undeniable as the originals on this EP.
Art + Work = Love has well rounded artfulness that entertains and engages audiences equally and the final result of Morgan's efforts is a startling beginning to his career.
9 out of 10 stars
[soundcloud url="https://soundcloud.com/thejamespmorgan/sign-language" params="" width=" 100%" height="166″ iframe="true"/]
If you enjoyed a preview from Art + Work = Love, check out James Patrick Morgan's official website by clicking here, give him a like on Facebook by clicking here & a follow on Twitter by clicking here.