Jenn Howard – Valiant Women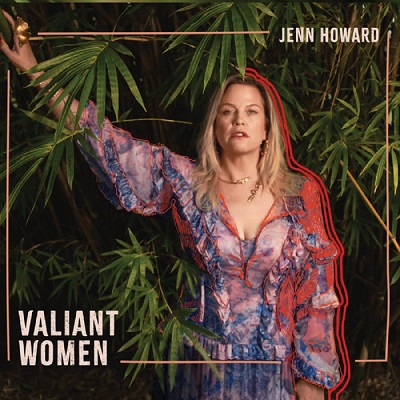 While she's not yet a fixture of the mainstream headlines, indie singer and songwriter Jenn Howard is moving mountains with her voice like nobody's business in the new album Valiant Woman, her second official LP to date. In eleven songs, Howard introduces us to a patchwork of NOLA soul, R&B, Americana, and pop that could qualify as one of the sexiest and most endearing of the spring season this year.
There are no overblown demonstrations of sonic strength, nor is there a moment in which our star sounds like she's forcing the point to the audience – everything, and I do mean everything in Valiant Woman feels natural and organic in a way that all modern music should.
Every part of the title track, "Wanted," and the dexterous "I Can't Call" revolves around the preservation of the tempo, and the formula employed in each of these performances relies on the backing band for magic as much as it does Howard herself. The chemistry between all of the players here is something to write home about this March, but there's never any doubt as to who the ultimate star of the show is.
Jenn Howard's voice is the catalyst for all catharsis in "Microphone," "Hold On," and "Where'd You Go," but it's made even more accessible to us than it would have already been through the dedicated play of the other musicians involved in making Valiant Woman.
As much as the straightforward material here grips me every time I listen to it, the seemingly more experimental latter-tracklist works like "Where'd You Go," "Lay Down the Law," and "Better Than You Think" are what put this album over the top for what I look for in a superior spring listen.
Howard's crooning seems to channel the warmth of the sun when she's celebrating life and the coldness of a bitter night when she's commiserating a love lost, or worse yet, the brooding that comes with knowing love is out there – if only we could reach the comforts of its embracive arms. She is the mood-setter, and whether she's working with vivid textures or going raw and real, her heart is always on her sleeve and available for all the world to see in this record.
If there's only one alternative pop LP centered on a powerful voice that you simply have to listen to before March is over, Jenn Howard's strikingly good Valiant Woman undisputedly takes the cake. From the strut of "Better Than You Think" to the confidence-building grooves of "Take a Hand," this record's tracklist will have you coming back to its grandest melodies time and time again, and I don't think you need to be familiar with Howard's work to appreciate how much she's accomplishing in this latest effort.
Only two complete albums into her career, she's sounding like the sort of icon that she's spent the better part of her life trying to be in this disc, and if you weren't a fan of her heart-melting voice before hearing it here, you definitely will be now.