Jiggley Jones – Not Your Typical Day Out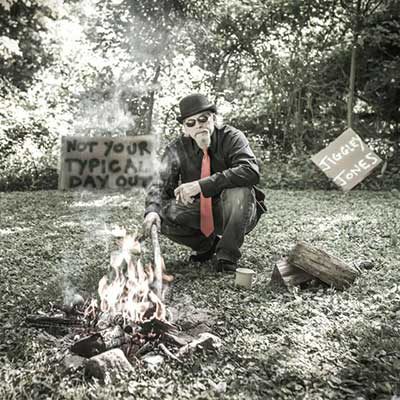 One could argue that the greatest contributions to the American songbook have come from the songwriters who at their core were storytellers, not bound by the rules of rhyme or verse, but instead driven by a passion to express something more complete that could poetically stand on its own. These singer/songwriters are the foundation of folk music, in its spirit and its identity. In that sense, you could definitely conclude that Jiggley Jones is a folkie through and through, and his new album Not Your Typical Day Out is a bold addition to the genre.
Jones isn't a stranger to the music industry. Since 2007 he's been composing and developing his style of craft alongside some very big names in Nashville, from producer Dave Moody to Terry Wendt and Chris Tristram. Tristram got Jones into the studio to record his first extended play, No Spring Chicken, towards the end of 2012, and slowly things seemed to start clicking into place for his career.
He followed up No Spring Chicken with the single Walk on Me and another extended play in … A Mountain, A Struggle, A Tunnel, A Light … in 2014. Between his first two EPs, Jones' style of play evolved significantly, and we started to get a feel for the potential depth of his songwriting and instrumentation.
A music video for the 2016 single Truth Seeker gave fans a visual perspective of Jones' artistry and demonstrated further musical growth. And now, with his first full length record Not Your Typical Day Out, we finally get to experience the Jiggley Jones sound in its complete form.
On this record, Jones' amalgamation of plaintive storytelling and charming fiddles and guitar strumming has a credibility to it that sets it apart from its country music counterparts. In numerous instances he breaks off script and throws us a different bend, like in the Mexican-style Del Alma that has a very colorful and striking tempo to it, and the bluesy Restless, that comes packed with some unforgettable soulful harmonies.
Jones is not scared to try something new and see how far he can push the band along with him. In a time when a lot of pop music has begun to sound more and more overproduced, manufactured, digitally corrected and perfected to the point of pungent toxicity, Not Your Typical Day Out is a breath of fresh air that cuts through the stench.
As we get ready to launch into a new generation of artists and sounds that the 2020s will inevitably yield, it is key that we in the journalism community focus more towards highlighting artists that are creating the most originally raw music and telling the most compelling stories among their contemporaries.
Jiggley Jones certainly appears to be here for the long haul with Not Your Typical Day Out, and his fascinating story seems only at its beginning. East coast fans should look out for Jones to be hitting the road again soon, and hopefully he'll treat west coast audiences to his live act in the near future.
For more information on Jiggley Jones, check out his official website by clicking here. Give him a like on Facebook by clicking here & a follow on Twitter by clicking here. Lastly pick up a copy of Not Your Typical Day Out on CD Baby by clicking here or on iTunes by clicking here.