Jimmy Jax Pinchak – Blue On Arrival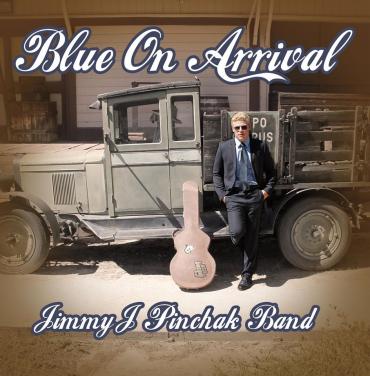 Jimmy actually started drums at an early age and discovered the Beatles and other bands of that era. Soon after, he started playing guitar which opened a new musical world. Cream, Jimi Hendrix, the Doors, the Blues Breakers became the musical foundation for him as he started his first band, "The Silence" and then his power trio "Jax."
His guitar mentor, "Fast Freddie" Rapillo has been working with Jimmy for a number of years. After watching a Buddy Guy/Johnny Lang concert, Jimmy was inspired to form a professional band of seasoned musicians with diverse musical backgrounds and experience. Blue On Arrival features Gary Swan – keys, Jon Fowler – producer, Melvin Brannon – bass, David Daniel Diaz – drums. This is a band project, make no mistake it is a different outfit than Jax.
Following up from Jax, his last project, this goes a step harder into blues territory and rocks even harder on top of that. What was hinted at comes on so much stronger it could appear that Jimmy has arrived, but not everything is in order just yet.
This is not an all original album by any stretch of the imagination, but a point taken and given back because it's not a lot of obvious covers with the exception of Crossroad Blues, which everyone puts their own stamp on, so it doesn't really count but you have to commend him for this one feat alone. There are other reasons to go into, but the music starts with Murder, and it is a very strong and solid opener. This goes the extra mile right out of the gate and that was a smart decision.
It's amazing how much older he sounds already, but once again weighing in the fact that covers help with that. It doesn't matter because he flies on this and the next track Hit My Stride with such finesse that the rest is gravy. I'm going to go ahead and label these two songs, especially the latter as the best on offer here.
It goes from blues to rock which swings way down southbound. But of course there is much more to chew on with Rock Me Down, which fights for third place overall with me on this album. I can use a whole pile of tunes like this to rotate while driving or play while jogging. It's another relaxed but grooving piece of music.
The organ really helps the original songs sound authentic but it isn't lost in most of the covers either. Poison is a monster ballad that gets under your skin with a fine vocal effort, I like everything about what it has to offer too. It's not that they can do no wrong, it's just a good way to start this band off right with a blues rock genre focus.
But I Can't Stop doesn't slow it hurt any either. This is another big sounding one with all the bells and whistles. The two latter tracks don't do as much for me as the first two songs but they're not all bad either, still cut from the same cloth and that is how this album works so well.
Poor One is a sensitive track that you either like or you don't. And before it's all over you probably will have some favorites but not feel like they're really better than the rest. Having said that, there are too many covers to give it all the highest flying colors.
There might even be some better than originals, and even some versions better than original songs but it makes no difference at the end of the day. What matters is if it all comes out in the wash, and although it manages to, it doesn't manage to with the best of 'em by this point on the disc. And then there is Best I Could, with its steamy approach that helps it get well beyond the former anyway. This is a very cool and stylish track. It reminds me of Rat Pack style mixed with a heavy hint of soul.
The next wonder is if he saved the best for last, and maybe he didn't and maybe he didn't. It sure isn't the worst thing on the record but I'm definitely not going to call it the best either. So it doesn't answer my question well there but it's still a pretty good song and not a bad way to end the disc. Stuck In Glue is hit and miss for me but might be the next person's cup of tea. It does have some good guitar strumming but nothing stands out other than that.
And while I like most of this CD I'm not hot on some of it at the same time. But I'm not your biggest blues fan in the world, so I'm also not going to claim a Bill Shakespeare either. I just know what I like and most of this does the business, while the rest is good but gets away from my mojo factor and loses some steam by lacking in that hook I'm drawn to. There are many players out there going down this road and soon enough they might have to follow Jimmy down it, rather than the other way around.
You get that and more but hopefully a release of full on original material to colors the senses bluer the next time out. If I take anything away from Blue On Arrival it's only limited to that.
Make sure to give a like to Jimmy on Facebook by clicking here & a follow on Twitter by clicking here.