Jimmy Shannon – Better Now Than Ever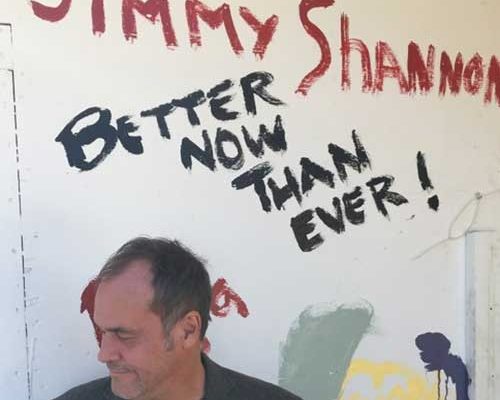 Jimmy Shannon's recent full length album, Better Now Than Ever, is a reaffirmation of the gifts that have established him as one of the pre-eminent songwriting talents working today. Shannon, moreover, is an exemplary composer who doesn't rely on the typical library of standards and covers for his discography.
His work is blazingly original while still conforming to many of the popular music's established tropes and making creative use of those elements. Shannon's talents are a product of a lifetime's experience and playing alongside some of the best talents available, but he's taken those lessons a step further by infusing them with eloquence and an ease of expression outstripping many of his contemporaries. This eleven song collection testifies to the breadth and effectiveness of his talents while still remaining quite open to hearing from a wide variety of music fans.
The two vocals and violin steering the progress of He Said… She Said makes the clever lyrics sound even better. It's like there's three singers working their way through this track, but none of them ever crowd the performance of others and they switch off roles with perfect timing. There's something slightly elegiac about the song, reflected in its use of past tense and the music's slightly melancholy quality. It's touches like that distinguishing Better Now Than Ever from typical efforts in the genre.
He even takes a turn with a knife-edged R&B sound on the song I Don't Want to Lose You and the musical intensity matches up well with the vocal and lyric intensity. It's one of Shannon's best vocals on the album. Bringing horns in for the song is a masterstroke pushing this performance over the top.
The following song I Lost My Way could scarcely sound different. This is the sound of pure heartbreak, colored in with the distinctive sounds of pedal steel guitar, and Shannon's vocal brings all the emotion demanded by this performance.
Girl Next Door takes the well-worn trope of its title and fashions a tidy little character study from the idea. It's songs like this where Shannon shows his deftest touches; an eye for significant detail and how to vocally accentuate the right moments. The piano playing is very evocative and fills the song with a lot of feeling.
I Can Help You is one of Better Now Than Ever's finer and affecting songs. The biggest single reason for this musical excellence is the piercing and immaculately recorded lead guitar filling so many crucial points in the song. It has a bluesy flair, but doesn't recycle the form's idiosyncrasies in a hamfisted way.
Lyrical country is a good way of labeling the song In Love With Me and Shannon's vocal here is among the album's best. The production has a flawless balance between Shannon's guitar, voice, and piano. Steel guitar returns on the track as well, but it's used with the same tasteful artistry defining its appearance in I Lost My Way.
The music spanning across Better Now Than Ever proves Shannon is practically a fountain for melodies that hold your ear and stick to your brain, but he's also a meaningful songwriter turning out his best work yet.
9 out of 10 stars
[soundcloud url="https://soundcloud.com/thejamespmorgan/sign-language" params="" width=" 100%" height="166″ iframe="true"/]
If you enjoyed a preview from Better Now Than Ever, click here to purchase the full album!