Jupiter in Velvet – The ONE In The Many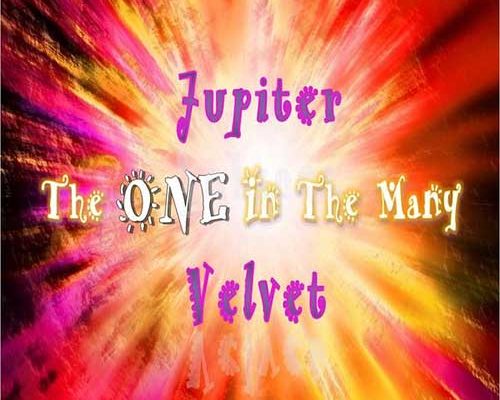 Expatriate songwriter, musician, and performer Jupiter in Velvet burst onto the indie scene a few years ago as, in some odd way, a modern Caucasian equivalent of Prince, writing songs fueled with a funked up hippie aesthetic and a cross section of musical influences fueled by his vocals and often audacious guitar playing.
His latest album The ONE In The Many is, like those preceding it, far more than merely some hodgepodge of pseudo funk and psychedelic musing merely mimicking much greater talents. The album's ten songs range across a wide variety of tempos and textures, but the burning center of the collection remains Jupiter in Velvet's high wire pop rock vocals and his often careening, rugged, but never out of control guitar. The production has a lot of DIY quality in it, but it never obscures the quality of the songwriting and instead often invests the material with happily unintended atmospherics.
Rule Your Day shows off some gritty guitar muscle, but Jupiter in Velvet expertly manipulates the song's dynamic potential and alternates the six string workouts with lighter fare.
The album's second song, however, takes a much different approach. There are brief reprieves sprinkled throughout the arrangement, but Lose Yourself seems on the lookout to largely crush the listener. The crashing guitar chords cutting open the verses leaves Jupiter in Velvet bleeding out his vocal one phrase at a time, but it never sounds tortured.
Instead, the effect is ultimately quite cathartic. The one true moment of pure pop bliss amidst the battling guitars and keyboards comes with the song Everyone's Looking 4 Something They Can't Find and Jupiter in Velvet takes full advantage of the songwriting opportunity he's provided himself. The track builds a lot of momentum from its first seconds on and climaxes wonderfully.
Only I Can Bring Me Down has a strong message and low slung guitar figure that comes rumbling out at the listener. The backbeat is quite solid and unwavering throughout. Jupiter in Velvet has exhibited more than the required vocal firepower to make these songs fly, but material like this gives him a chance to pull back on things and show how deliberate and tasteful he can be when required.
Surrender 2 the Groove promises something more pop oriented, but Velvet focuses instead on creating an immense and intensely visceral rock groove that the instruments milk for every ounce of its dramatic power.
Take Over the World is a brooding, slowly developing track very much in the ballad mold, but nothing is ever entirely "normal" in Jupiter in Velvet's hands.
Another example of his ability to spin things oddly comes with the album's closing number. Keep Your Eye on the Pearl has a mixed message of positivity, but the music is another visit into moodiness and unease. There's a sense presiding over this song that taking your eyes off the pearl comes with possible consequences no one wants to pay.
This is an important work. Jupiter in Velvet isn't merely some fringe character plying out a sketchy trade along the margins of the music business, but rather a full blown songwriting visionary when such figures are in short supply. The ONE In The Many will make you a believer.
9 out of 10 stars.
[soundcloud url="https://soundcloud.com/jupiterinvelvet/peace-this-thing-together" params="" width=" 100%" height="166″ iframe="true"/]
If you enjoyed your sample from Jupiter in Velvet's upcoming album The ONE In The Many, give them a like on Facebook by clicking here & a follow on Twitter by clicking here.