Kevin Durr – Sanctuary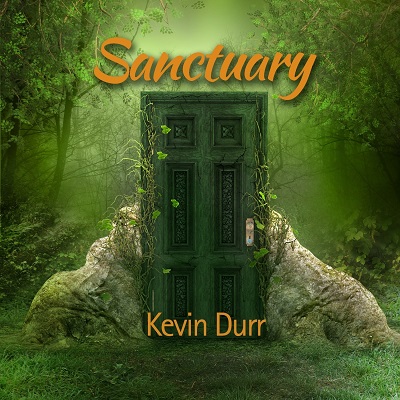 Kevin Durr has hit his songwriting stride in the fantastic new collection, Sanctuary. Consistent and melodious in nature, Durr can also plug-in the amp and really rock out the guitar. What never changes, besides the enthralling lyricism, is the magnetisms in Durr's voice. He doesn't overdo it, nor does he try to be someone he's not. He's as real as it gets and that sound shines through in his voice. Sanctuary is a follow-up to Durr's other albums Better Angels and Songbird. Durr is based in Chicago, Illinois.
The balladeer comes alive in the first few tracks "Sanctuary", "Everyday Is Beautiful" and "Time Slips By". I felt like all these songs were part of the same tree branch – littered with violin and cello strings and most of the great hooks and catchy choruses. Durr has a way of singing words that feels friendly and joyous – making you as a listener believer that there is always hope. There is always something to find peace or beauty in – even if it's just watching what's happening outside from the window. "Sanctuary" (title song) has a bit of a seclusion theme in its lyrics, but one would never know it by the glowing music. You feel the intimacy in his voice, the yearning for connection. Human connection of any kind. He wants to be that person for his listener.
"Neverland", "Peace of Mind" and "First Snow" make up the middle portion and the continuity of solid songwriting and balance of elegance and organic / granola flows. "First Snow", an especially homey feel and vibe, could even make its way to your Christmas playlist. The acoustic guitar is warm, and you can almost hear the neck of the guitar break; the arrangement falls into place like snow hitting the pavement and the first layer of snow all-at-once. I found "First Snow" to be full of a quiet intensity – like that first wave of cold air hitting you and it's time to open your eyes to the new season. Being from Chicago, too, I can imagine that first snow and that wind hitting your eyes brings tears. You can hear that emotion in the guitar work.
Just as Durr can make the Earthy-tones sound new, he can do the same when the rockier side of things hits the scene. "Love Will Find a Way" has a skittle beat, a percussion that hits harder. From there "I Need You" and "Everything Is Right" fit nicely into the violin-string pattern. "Feel That Heartbeat" starts out with the bump-bump-bump of a heartbeat. I loved the way this song takes you to a sound reminiscent of Fountains of Wayne meets R.E.M. meets The Knack. The last two songs, "All In All" and "High Flyer" give the listener yet another perspective to Durr's far reaching sound.
Featured on the album are musicians Frosty Baylor (vocals), Courtney Blake (vocals), Clifford Williams (bass and drums), Jimmy Chaos (violin) and Magdelena Sustere (cello). Durr serves as vocalist and plays guitar and is the principal songwriter.
If you enjoyed checking out Sanctuary, check out Kevin's official website by clicking here.