Kimberly Morgan York – Found Yourself A Lady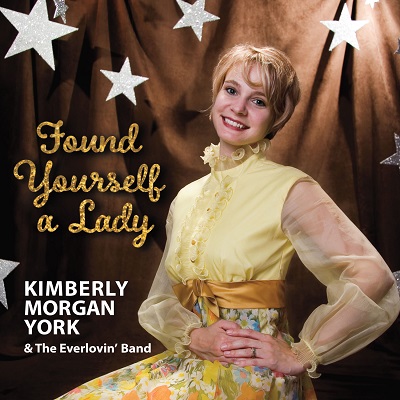 Singer/songwriter Kimberly Morgan York along with her backing band The Everlovin' Band bring a multitude of emotions to the country-centric masterpiece Found Yourself A Lady. At times strikingly personal and at other times a more communal evocation, one thing is for certain, if Morgan York were on a quest to find herself and reveal the heart of soul of her life, the tracks on Found Yourself A Lady secure her mission. Not since the exceptional breakout project Golden Hour from Kasey Musgraves, has a female country music singer ignited such buzz. Morgan York is on the cusp of making a huge statement.
The album is stacked with 10 very strong tracks. Morgan York and company give special attention to the solid songwriting, and at the same time, give great care to the orchestration. These songs sound as if they could be plucked into any ballroom or the Grand Ole Opry sacred halls just the same. Morgan York, who can coo and yodel the choruses as well as Loretta Lynn or Patsy Cline, feels especially at home when she sings alongside the giddy-up percussion. The scratching or the brushing of the drums. I liked the way the cadence in her voice was rousing and flowered with butter and whiskey. She's not as gritty as a Wynonna, per se, but she's just as country.
In the standout single, "Don't Cry to Me", it seems as though this single encapsulates Morgan York's own life experiences. In her press materials, Morgan York is open about her two divorces, balancing motherhood and a career. Make no bones about it, she presents herself in the anthemic "Don't Cry to Me". This track has the enthusiasm of a woman breaking out on her own for the first time. It has the zest of a woman that has given her last you-know-what and has no time for tears. I loved the subtle moxie, the refrained and refined harmonies. She's a southern woman – hear her roar. Sewn between the threads is a dreary, but mysterious steel pedal sound. It's icing on the cake for sure and gives further emphasis to Morgan York's country roots. This story has been told many times before from women all over the globe, but it's Morgan York's turn to set the record straight.
In "Real Thing" Morgan York shares another side of her artistry. I felt like this was a slower tune, but just as powerful as "Don't Cry to Me". She humbles herself in the lyricism, but her voice never loses its luster and vitality. When she sings you feel it and she is so real. The guitar work is not as rockabilly and more Kentucky-country. I loved how her voice lingers for hours like the last one in the room. She stays with you as a listener and her light seems to shine like a spotlight.
Kudos, too, to the very fun "Deuces and Jacks". I loved this card-playing metaphor and the kicks to the song just keep coming. I'm also a fan of the heartfelt song, "Let Me Go". Morgan York is about to burst and we are all the better for it.
If you enjoyed the sneak peak of Found Yourself A Lady, check out the official site for Kimberly Morgan York by clicking here. Give her a like on Facebook by clicking here & a follow on Instagram by clicking here.