Kristy Love Brooks – The Soul of Rock 'n' Roll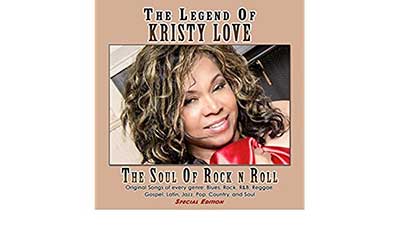 The modern and traditional spirits that Kristy Love Brooks mixes with such great success on her release The Soul of Rock 'n' Roll perfectly illustrates the wide ranging talents that have made Brooks one of the most respected and sought out talents of her generation. She's worn many different artistic hats during her career, observing no restrictions, and her musical journey has carried her from a featured role with the vocal group The Platters all the way through a stint with RCA Records.
She's exerted no small measure of influence over a younger generation of female performers and the reasons why are evident with each development of The Soul of Rock 'n' Roll. She's blazed her own personal trail through her career and continues to do with unabashed inspiration. The Soul of Rock 'n' Roll bowls listeners over from the first and understands what drives listeners to pay attention.
The album kicks off with the uplifting single Keep Believing-Believe in Yourself and she gets across the title's message with conversational eloquence and bracing directness. The music is well composed to match her vocal intensity and there's an aspect to this tune that makes it close to a spiritual anthem about self-empowerment. Her positivity is a defining quality of the songwriting on The Soul of Rock 'n' Roll and a welcome shift in gears from more downbeat fare.
There's plenty of heartbreak on this collection, but she makes it a much more unusual listening experience with the addition of songs like Good to See You, Thankful, Rainbow of Love, and the closer Dream Your Dreams. This is a performer who relishes in emphasizing the possibilities in things rather than reveling in life's valleys.
The first two of those aforementioned songs are the album's third and fourth songs, respectively, and twin up rather well thanks to how well the music and vocal performance alike make such clarity out of some of life's most complex experiences and emotions. Rainbow of Love, with its island lilt, has a particular brightness that other songs of its ilk lack, but the relentless optimism of her singing voice and its message will win over all but the hardest of hearts.
She isn't afraid to embrace a more deliberate, orchestrated style musically and that becomes apparent in songs like Love is On My Mind and, to a lesser extent, Time for Love. The first of those two tracks is a sensual, unwinding arrangement with lush melodies developing over time while the second is in a much more obvious pop vein and relies on additional voices sweetening its musical mix.
Two of the more bracing physical numbers on The Soul of Rock 'n' Roll come with the arrangements for Touch Me and the rock leanings of Listen to the Music. Drumming is the key factor in both songs. Touch Me has some obvious overdubs, but there's a live feel on much of it that's unmatched by other tracks. Listen to the Music has a little bit more of a constructed air surrounding it, plotted out rather a spontaneous band creation, bit it grabs listeners anyway thanks to its guitar playing and drumming alike.
There's something for every musical taste on The Soul of Rock 'n' Roll and, beyond all her other talents, Kristy Love Brooks continues to cultivate and be blessed by one central gift – the individuality of her voice and style. It makes a deep impression.