Lakes – Fire Ahead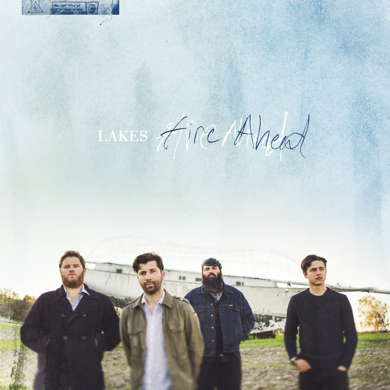 Rarely does an album leave me not knowing what exact words to use in describing it as the Lakes latest album Fire Ahead did.
I felt many emotions based on each track which makes me truly feel that the San Luis Obispo based band put a lot of thought & work into every detail of the album. Each song had a unique story to tell with some of them striking a big chord with me due to relating to current situations in my life.
The album opens with Fire Ahead A. whose upbeat feel & vocals drew me in.
Hold On was a very interesting song as one would thing it was a catchy upbeat song until you really pay attention to the lyrics & see how it is a sad story about two people including one who suffers from a drug addiction.
My interpretation of Hide Away is that it talks about the times you just need to be away from everything & everyone for some time, a feeling I & many others are too familiar with.
Santa Ana Winds was very interesting to me especially the chords at the beginning which reminded me of the Lynyrd Skynyrd's Free Bird. The relaxed vibe of it really hit the spot.
Yellie was another track that made me think of a classic song from yesteryear which in this case was Dolly Parton's Jolene only because of the way Yellie was sung.
The album closes with Fire Ahead B. which I admit did not know was on the album until I once again took a look at the track listing. While I was listening to it, I could not help but think it sounded like a continuation of the opener. After seeing the title, it made much more sense as it was exactly that.
In closing, I can't express enough how much I love Fire Ahead as I find something new I love about it with every listen. My only regret is that it took me this long to check it out. The good thing is now that I have, I can listen to it as much as I want which I have definitely taking advantage of!
Hopefully in the near future, I will be able to also write a review of how amazing they are live as if the album is any indication, it could be one of the best shows I have ever seen!
Fire Ahead is a must listen & I strongly urge you to pick up a copy today by clicking here.
Tracklist:
 Fire Ahead A.
1992
Hold On
Hide Away
My Misery
Santa Ana Winds
Yellie
Holiday
Armacost Avenue
Diamond Eyes
Goodbye Santa Monica
Fire Ahead B.