Late Cambrian – Golden Time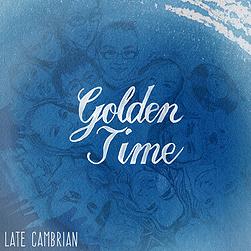 I just had the pleasure of listening to Golden Time, the newest album from the Brooklyn-based band Late Cambrian which is due out next month. Going in, I was very excited to review it as I love so much of their previous work.
The album opens up with Throwing Shade which definitely set the tone for what was to come. The song featured some gritty instrumentals that I bet will sound awesome live!
Next up we had Golden Time which was one of the first songs released from the album a short time ago. It sounded as awesome to me as when I first heard it with its upbeat sound that showcases their signature sound.
Illamasqua had a very obscure feel to it which makes sense considering the title gave off that indication instantly. The understated drum work & synth sounds went very well with the vocals which helped put it over the top.
Game Show was one of my personal favorites on Golden Time as I loved everything about it from the chill pop song vibe to the fun lyrics & flawless vocals. This definitely should be a single in my opinion as it would garner in a lot of new fans for sure.
Now is definitely one of the stronger tracks on the album as it showcased a different side of the band that long time fans would not be used to. The song opens with a very nice riff that showcased some imagination. What really did it for me was the backing vocals which helped cement the relaxed & carefree summertime vibe the song gives off.
I absolutely love the melodies in DYBIL with the repeating line of "Do you believe in love?" I believe I do after listening to this song…. the love for the song that is!
Montauk is another vital track on Golden Time as it showcases the ever growing versatility of Late Cambrian. The clever lyrics went very well with the acoustic rhythm & vocals from guest star Angie Hart of Frente fame. She definitely gave a nice boost to this strong track.
Shiny Cars contains a Late Cambrian staple, an extremely catchy hook albeit with a slower pace from other tracks on the album. I feel this was the perfect choice as a finale as from the start, you could feel the crescendo building up to an epic ending which the band definitely delivered.
What can I say, Golden Time lived up & easily surpassed the personal hype I had for it. This will no doubt be one of my favorite albums of 2014 & I feel it will be for fellow fans of the band & new ones alike!
[soundcloud url="https://soundcloud.com/latecambrian/golden-time-late-cambrian" params="" width=" 100%" height="166" iframe="true"/]
Tracklist:
Throwing Shade
Golden Time
Illamasqua
Game Show
Now
Objetcs
DYBIL
Montauk
Shiny Cars
Pre-order Golden Time by clicking here.