Liz Kennedy – Hike Up Your Socks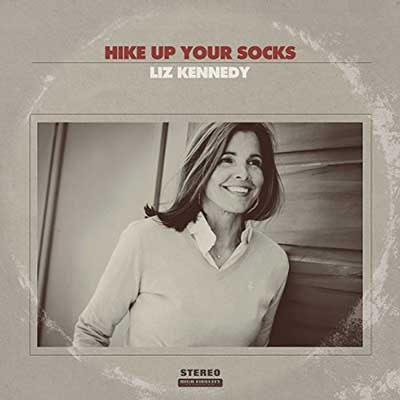 The latest album from singer/songwriter Liz Kennedy Hike Up Your Socks is another stellar collection in a career that has seen her rise from local prominence and achieve enough recognition that she can attract top shelf guest stars like Taj Mahal. Mahal makes a solid contribution to this album, but don't think that he bears sole responsibility for its noteworthiness. Kennedy's vocal talents have expanded exponentially since her debut and Hike Up Your Socks finds her working at or near the peak of her interpretative powers.
Her songwriting, likewise, has expanded its purview and is rarely content to stick to the expected changes or instrumentation. She stamps her personality on each of these dozen songs and freely moves from a rootsy approach across the spectrum to more commercialized, pop oriented songwriting. It doesn't dilute Hike Up Your Socks' power however. The album only gains added luster thanks to its diversity.
Everyone Knows How It Goes doesn't take itself too seriously and it makes the performance all the more likable. Kennedy and Taj Mahal's voices come together with great chemistry and achieve the sort of dialogue between two singers that many duets aspire to. Vocals are a strong suit of the collection as a whole and not just Kennedy's singing – the vocal melodies for some tracks raise them up several notches and the frequent use of backing vocals enriches a number of performances as well.
Say The Words is a wonderfully mature and musically worthwhile outing that shows off one of Kennedy's most sensitive vocals on the release and writes about adult relationships and struggles in a way avoiding any unnecessary theatrics.
Love Gave Me Away brings together the Americana influences in her music with a lightly played modern pop sensibility that gives it immense accessibility. Kennedy seems inspired by this particular tune and puts over the track with a little extra oomph that's quite entertaining to hear.
Not Ready is another of the album's forays into ballad territory and the customary lyrical piano fills the song with irrepressible melody. It's a track of enormous vulnerability and it's difficult to not admire Kennedy for her utter fearlessness in singing it with such wide open emotion.
The mood improves with the song Hello Romance and it's a unique point of view that doesn't make for a good songwriting subject usually. She does a convincing job of embodying the lyrical optimism and the half giddy sense of launching off into another great adventure of the heart regardless of how it ends.
Hike Up Your Socks is one of the album's most emphatic statements crouched inside a relaxed, loose limbed shuffle that insinuates itself early on into a listener's consciousness and stays there.
High Time navigates its way through a number of changes without so much as a hiccup and the drumming, especially, hits all the compelling marks. Liz Kennedy's Hike Up Your Socks is a fully realized release from a singer/songwriter whose name deserves to resound across the music world in general.
[soundcloud url="https://soundcloud.com/lizkennedy/07-hike-up-your-socks-1″ params="" width=" 100%" height="166″ iframe="true"/]
If you enjoyed a preview from Hike Up Your Socks, check out the official website for Liz Kennedy by clicking here. Pick up a copy of the album on Amazon by clicking here. Give her a like on Facebook by clicking here & a follow on Twitter by clicking here.