Marc Miner – Last Heroes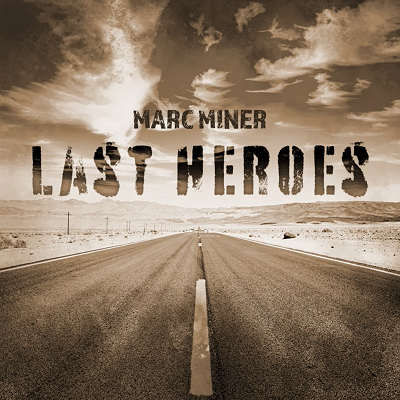 Marc Miner has one of 2023's most memorable releases on his hands with the eleven-song release Last Heroes. His contemporary take on time-honored styles such as outlaw country, blues rock, and classic country resonates with modern ears rather than sounding like glossy museum pieces. Vienna's Miner doesn't write pastiches.
His songs provide listeners with a vivid glimpse into a world where doom is always lurking around the corner, life is cheap, and heartbreak is par for the course. They aren't overwrought, however, and Miner shows chameleon-like powers inhabiting the songs in a variety of vocal guises.
He's a grizzled county rock storyteller with the album opener "Sweet Revenge". It isn't a softball tale of revenge, however, but rather an unforgiving depiction of a murderous couple romping their way through the world until they turn on each other. It's far from the usual denouement for these kinds of songs as justice invariably punishes such subjects, but Miner does things his own way. It's a compelling listen for the audience.
"Nicki & Bob" takes a near 180-degree turn in tone and subject matter. It's a different sort of alienation Miner writes about here, however, with his portrayal of two downtrodden loners suffering the slings and arrows of small-town life. Excellent arranging, playing from each musician, and really sparkling lead guitar distinguish this one.
One of the undoubted peak performances on the album is "Hero of Laredo". He achieves cinematic heights with the song's chorus, especially thanks to its backing vocal contributions, but the song's movement plays an undeniable role in its success. It's an incandescent marriage of arrangement and words. Each propels the other and you can hear Miner inspired by the synthesis he's achieved.
"Heavy Bones" kicks off with chugging acoustic guitar before exploding into a blues-soaked march. There's a bit of plodding here that some listeners will dislike, but others will relish Miner slowing things down and milking the drag for all its available muscle. The chorus is why we show up for this song, however, and it's one of the best shout-it-loud passages on the release.
He keeps things diverse yet on theme late into the album with "Home Ain't No Place for Me". The warm glow of the song's organ rising to the surface lights this song up with a radiant recurring pulse. He adopts a memorable vocal persona for this track as well.
"The World's Playground" may surprise scattered listeners with its obvious yearning to make a major statement near the album's end. It plays like the collection's true climax, in some ways, as Miner surveys modern life and finds it wanting. It's another song rife with exceptional lead guitar and the playing cuts a distinct swath across the song's surface. The playing on this album rarely covers the same ground twice.
It's a deceptively simple release. An attentive listen makes it clear that Marc Miner invested considerable time and effort into Last Heroes and its effortless sound is simply a byproduct of his gifts. All the best ones make it sound easy. Miner's Last Heroes never cheats with an easy take on life, however, and guides us through the world as it is, rather than as we would like it to be.