Matt Hammon – Silver Suitcase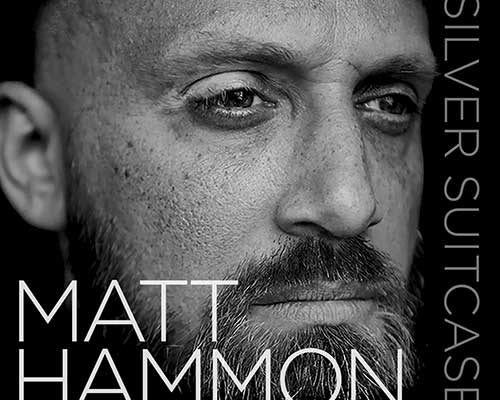 This is one of those albums that bowls you over. It sounds like a music career of putting his songwriting on the back burner while playing in other bands and for other people has come bursting out of Matt Hammon in one sustained blast. His first solo release Silver Suitcase marks a turning point in this Houston, Texas native's life and career.
He's served a long apprenticeship playing drums for notables like former Husker Du guitar slinger and songwriter Bob Mould and indie acts like The Rebecca West, Mineral, and The Damnwells, but the full force of his creativity burns brightly across these ten songs and gives them an inspired energy that they might lack in the hands of other musicians. Some of the songs are rather old, written long before Hammon ever turned his attention to recording an album, but the material comes across as uniformly vital and Hammon doesn't short change a single moment.
Pictures is a perfect way to bring the album out of the gate. There's definitely a strong melodic alt rock feel to all of the songs on Silver Suitcase, often spiked with some modern touches and other quirkiness, but it sounds fresh all over again in Hammon's hands. His voice has been a hidden jewel tucked behind a kit all these years – he has a great skill for delivering this melodic alternative/hard rock while still never possessing a first class trained voice.
He's a natural performer, however, and his comfort with the new role as front man is unmistakable, albeit heard  on a studio recording. It comes across with such conviction that there's little doubt he'd match the same intensity in a live setting.
The Table and Out of Touch show completely different sides of his musical character while differing some, as well, from the album opener. The former track dives in an even stronger rock direction with a careening guitar attack and furious drumming while the latter is the first sinewy, stripped down guitar track on the album that avoids unnecessary pyrotechnics.
As a Child has a mid-tempo pace with a patient build for a song running over five and a half minutes and the jangling melodicism coming off the guitars gives it a stately air. It's one of the most emotionally naked vocals on the album and Hammon's voice manifests a compelling weariness that holds your attention.
The album's title song is definitely one of the summits on this release, if not its greatest moment. Hammon seems to sense this and really gives the vocal and lyric alike immense care with his interpretation that really makes this song work in a way that is quite unlike any other moment on Silver Suitcase.
Sleeper's Town is the album's sole acoustic number and gives Hammon an opportunity to show another side of his skill set quite unlike anything else on the album.
Matt Hammon's Silver Suitcase bristles with energy and imagination that few other performers, particularly those who've been around for a long time, can match. You'll be glad to go along for the ride.
[soundcloud url="https://soundcloud.com/matt-hammon-335065360/01-pictures" params="" width=" 100%" height="166″ iframe="true"/]
If you enjoyed a sneak preview from Silver Suitcase, click here to check out the official website for Matt Hammon. Give him a like on Facebook by clicking here & a follow on Twitter by clicking here.