Moon & Pollution – The Box Borealis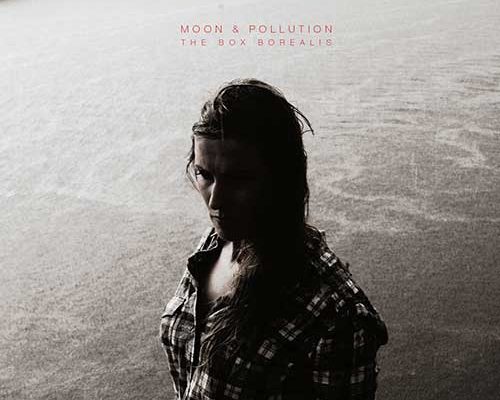 This is an act cut from a decidedly different cloth. Graham O'Brien, formerly of No Bird Sing, and vocalist Molly Dean form a vibrant artistic unit bringing a number of disparate musical elements into surprisingly perfect accord. O'Brien draws from a wide and impressive rhythmic vocabulary that gives each of the ten songs on their debut its own percussive signature.
The glistening synthesizer and keyboard lines unfold melodies in an assortment of ways. Dean juxtaposes a varied vocal technique against those tempos and textures and fills the tracks with unexpected voices and an intensity level that matches the backing. O'Brien employs different production styles on The Box Borealis, but there are familiar elements recurring through the songs, like the lightly applied echo permeating each song.
His style on the opening songs favors mood over clarity. Some will call this shoegaze, but it isn't entirely the case. O'Brien, on the opening songs as well as later tunes, centers inventive percussion as a direct counterpoint to Molly Dean's gorgeous explorations of her upper register.
Her performance on songs like the title track and opener, The Box Borealis, are crucial for better balancing the track between diffuse atmospherics and direct melodic involvement.
Sampling plays an important role in the album's second song, Moving Scene. Robert Mulrennan's echo-drenched chords sound like steam escaping from an overheated pipe and there is a force simmering just below the relatively placid tempos that hints at darker depths. The melancholy common to shoegaze makes its presence felt throughout the opening tracks, but here, as elsewhere, O'Brien places the track's disparate musical elements in sympathy with one another to create a greater, cohesive whole.
The electronica pulses and lightly shuffling percussion gives the song Moon and Pollution an unusual rhythmic pull. Distance continues to be an important album motif – Dean and O'Brien's songwriting on tracks like this sound like it is emanating from within a glittering cloud.
Darkroom Double finds the duo moving in a more quantifiably commercial direction. Despite only clocking in at a little over four minutes in length, Darkroom Double is The Box Borealis' longest track and a resounding musical statement.
This isn't simply a duo who can win over listeners with their imaginative daring – instead, the contemporary beats and straight-forwardness of this song show they are capable of connecting with listeners on a visceral level.
Solace Sandwich takes this a step further. The groove is better defined than ever before, very immediate and memorable, without losing the cleverness defining so much of their work.
The second to last song, Alter Eagle, has been featured on MTV programming and, as such, will likely prove to be a song many listeners gravitate to before others. As an introduction, it's in a curious place on the track list, but it does provide a four minute three second primer on the duo's abiding musical aims and their compositional style.
Moon & Pollution do a little bit of everything and they pull it all off with talent and bravery. Their debut The Box Borealis will win over a wide swath of fans – pop, hip-hop, and even progressive music fans can find much to enjoy here.
9 out of 10 stars
[soundcloud url="https://soundcloud.com/moon-and-pollution/the-box-borealis-1″ params="" width=" 100%" height="166″ iframe="true"/]
If you like what you hear from Moon & Pollution, give them a like on Facebook by clicking here & a follow on Twitter by clicking here.