MUMEx Duo – Heat The Silent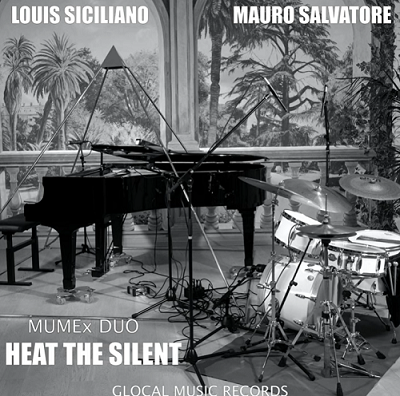 As both a fan and a professional critic, I can't help but notice the uptick in increasingly conceptual output coming out of the underground lately. There's nothing wrong with experimenting with the limits of your sound or skillset, but to turn everything into a work of avant-gardism starts to feel a little disingenuous, especially when working with a model that has been around for generations, such as jazz.
Although some of their peers have been more than content to go as extreme with the aesthetic as possible, to the point of even abandoning the core fundamentals of what makes it such an intriguing flashpoint in pop music today, this isn't preventing Mumex Duo from going a rather traditional route and making something quite wholesome and straight-shooting in their new album Heat the Silent. Currently out everywhere smart jazz music can be consumed, Heat the Silent has seven tracks that are almost certain to test your conceptual capacities as a listener, but between you and me, had I not known what kind of a listening experience I was about to get into with this LP, I would have likely fallen in love with the material here just as wholeheartedly as I did coming into this record with some knowledge of the players' talents.
There are no kitschy theatrics or indulgent poetic themes sewn into the bottom end of "Beyond the Eighth Door," "Thelonious," "Joe's Island," "Variations on Estate," or any other songs here, and from the way that Mumex Duo arranged these tracks, there wasn't any room for them. There are instances in this record where the material legitimately feels like it's being sourced from a much grander extended jam, with "Heat the Silent" and the original work "Variazioni Senza Fine" standing out as two of the most spirited performances in the tracklist.
The chemistry between these gifted musicians in the studio is something to marvel at on its own, and you can just feel the steam-heat that rises when they start to get on the same sonic level. Texture is often given as much light in the mix as any element of tone is, and I'd have to say that this feels intentional on the part of the producer. This is a record that is meant to be a little invasive, and with the type of swing and brooding tonal presence it partners together, I can't imagine anyone taking issue with this.
A jazzy masterpiece that isn't scared to venture off of the beaten path in the name of getting something fresh off of its chest, Heat the Silent is a record that feels and sounds so much bigger than the players responsible for bringing it to life this October. It's worth noting that Mumex Duo has been flying under the radar up until the buzz surrounding this upcoming release got out of control this fall, and I don't picture them being able to remain a well-kept secret as the next year progresses. They've got too much of a good thing to be wasted in all seven of the songs that you're going to hear in Heat the Silent, and I'm excited to see what they'll do next.