Mumex Trio – Folds Of Time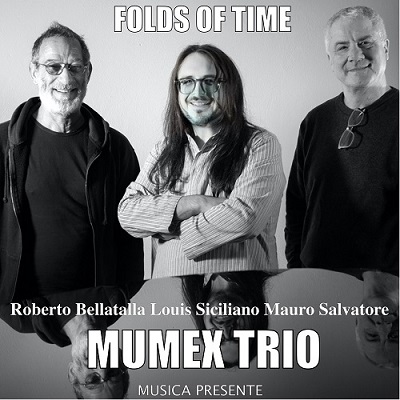 When you've got musicians like Louis Siciliano, Roberto Bellatalla, and Mauro Salvatore sharing the same studio, you know there's going to be a lot of cross-cultural influences imparted to the music; as such, Mumex Trio's first album together, Folds of Time, feels like quite the melting pot of musicality.
Folds of Time invites elements of free jazz, avant-classical, and even a touch of world music into the mix for what feels like a landmark moment in this year's best new releases out of the underground, and by all accounts, Mumex Trio have a debut to be quite proud of.
There are instances in this album in which the percussion is not playing as major a part as the keys or the bass is, but even in these moments (i.e. the midsection of "Traveling With Wayne" and the latter portion of the title track), its influence over the rhythm is still significant. One of the best parts of Folds of Time is the progressive element to the songwriting, which allows for the tracks to come together more like classical movements than as individual songs. There's no breaking this material up with a shuffle button; to me, this album is best heard beginning to end, as intended.
The somber moments in "The Legend of Mansa" and the previously noted title track evolve with precision rather than haste, and I don't know that they could have felt as dramatic as they do here being performed on a live stage. I can't say if it's the insularity created by the studio setting or just the delicate manner with which the content is being presented to the audience, but there's a hint of chamber music in the construction of these latter songs from Folds of Time that makes it feel almost psychologically penetrative, largely due to the continuity of the players themselves.
APPLE MUSIC: https://music.apple.com/us/artist/mumex-trio/1594370846
We don't need lyrical explanation in "Traveling With Wayne" or "La Roue De La Fortune" to understand the kind of story Mumex Trio are trying to tell with these two compositions and to even suggest verses in the place of the raw virtuosities comprising thee songs would be to dismiss the creative narrative here entirely.
The first act in Folds of Time is easily the most classical, and breaking it up with anything other than the straight V-formation of this power trio's play just wouldn't have felt right; to me, this is a group that needs to be chaotic in order to sound complete.
I think Folds of Time is a certifiable must-listen in every department, and while it doesn't owe much to the establishment of any one genre, it's also not a record completely devoid of solidity. The shape of this music is abstract without question, but it's also made to be accessible to fans of melodicism who might not even be jazz fans to begin with. It takes a lot of skill to make something as sophisticated as this is without leaving a couple of people in the audience feeling left out, but Mumex Trio manages to do so brilliantly with this record.