Nell Robinson & Jim Nunally Band – Baby Lets Take The Long Way Home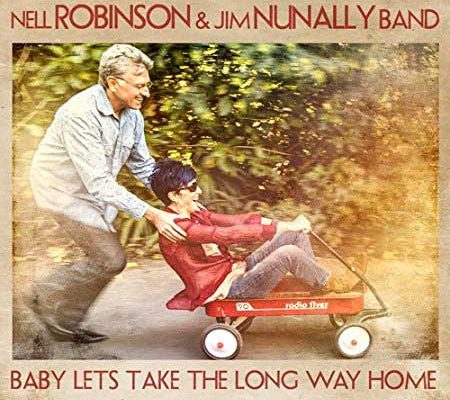 Vocalist supreme Nell Robinson teams with the Jim Nunally Band for this sterling twelve song release and their talents in this musical area are such that the release immediately contends for best Americana offering of the new year. The band does turn their hand to a couple of covers, but their primary focus lies with writing original material that never confines itself to one narrow area.
Baby Lets Take The Long Way Home is never afraid to experiment and stretch itself beyond the bluegrass style. Classic country sounds and blues make their way into the mix and, even if is solidly in the roots music genre, these songs have a commercial appeal that will hit the mark with even casual listeners. These are merely instrumentals with some perfunctory lyrics laid over top; instead, Robinson and Nunally have put together a collection of well-rounded songs that delve deep into human experience.
There's some joy to open things. The title song will put a smile on even the most jaded listener, but it's the musical substance at work here that makes an otherwise innocuous tune something more substantive. Robinson's vocals on this song make the performance special as well – she throws herself wholeheartedly into its emotional weather and adds another luminous presence to the performance.
Her presence, likewise, defines the second track I Hear A Southwind. Pete Grant's pedal steel guitar playing comes much more to the fore here and the classic country sound that his work imparts to the songwriting enriches everything.
Some of the tracks have a decidedly literary bent to their lyrical content and few personify that quality better than Tempest. Some listeners make mistake the title for a Shakespeare reference, but Robinson draws her inspiration from novelist Michael Ondaatje's work The Cat's Table. Robinson, however, is a canny enough musician and writer to understand too much obfuscation and pretension makes for a less accessible work, so the language is kept relatable here and elsewhere.
I'm Brilliant is one of the more interesting tunes on this album. The band and singer alike take a 180 degree turn here compared to previous songs, even the aforementioned Tempest, into the darkest of nights. The subject matter deals with the difficulties, heart ache, and resentments fostered by trying to live and function with a raging alcoholic in your life. It isn't the most cheerful topic in the world but, even in this downcast mood, both singer and music come together in a moment of rare beauty.
Sophia explores the folky side of the singer and band's talents while taking some musical chances that many of the album's other songs don't dare. It's acoustic, but practically ambient, and Robinson's vocal is quite haunting.
Complicated doesn't belabor its jazzy influences, but it's a welcome shift from the album's dominant musical mode and manages to straddle the line between seriousness and playfulness without ever losing its balance.
The final track Mirror is similar, in some respects, to the earlier Sophia, but there's much more shape and definition to its arrangement despite their common dreamy qualities.
Fans of Americana and roots music will, naturally, love this release. Robinson and the Jim Nunally Band have, however, crafted an album with Baby Lets Take The Long Way Home that will appeal to many.
9 out of 10 stars
[soundcloud url="https://soundcloud.com/nellrobinsonmusic/sets/homepage-playlist-2017″ params="" width=" 100%" height="166″ iframe="true"/]
If  you enjoyed previews from Baby Lets Take The Long Way Home, check out Nell & Jim's official website by clicking here, give them a like on Facebook by clicking here & a follow on Twitter by clicking here.