Nick Black – Deep Blue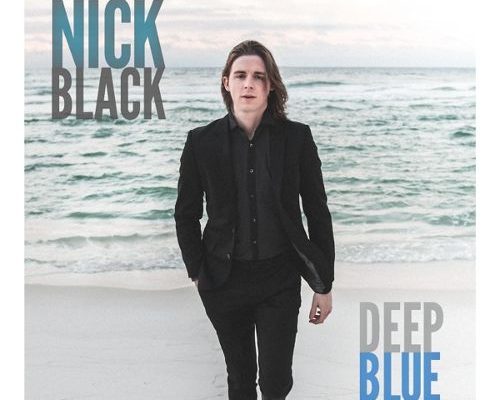 Deep Blue is the second album from young vocalist/songwriter/guitarist Nick Black. Pure talent propels Black's quick ascension into the top rank of modern soul and R&B musicians. The songwriting certainly recalls classic material, but Black and his collaborators never sound outright imitative. Some might find the songs a little too clever by a half, but most will hear this collection for what it apparently purports to be.
Nick Black's ten tracks on Deep Blue insist on staking out their own territory. These are songs that rarely, if ever, risk any self indulgence or affectation. Instead, Black confidently steers them through cuts often cresting on a wave of vivid changes, fiery lead guitar, and an irrepressibly clear sense of melody underpinning much of the playing. The production qualities are exceptionally clear and render Black's vision for each of the songs with warmth and a across the board balance.
He doesn't completely turn listener's expectations on their heads, but he's happy to put them on their side. Songs like the opener Ocean are plentiful on Deep Blue trod familiar musical and lyrical themes, but there's an unusual spin given to these elements thanks to the ability of Black and his musical collaborators thanks to their talents for turning the R&B form's customary textures towards different ends.
The brass contributions are a little muted on the album's second song Grownups, but there's a rambunctious sense of playfulness to this style of R&B lacking on the first song. Whatever genre credentials it may or may not have, Grownups is a fantastic pop song as well that writes about a ageless topic in a slightly new, inventive way.
Falling in Life has a sharper attitude than the aforementioned songs and kicks off with a super slinky groove with Black delivering an evocative vocal over the top. There's a lot of variations and changes in direction during this song and it isn't hard to wish Black would settle for one direction on songs like this but, to his credit, his basketful of directions are never boring or predictable, even if their sheer variety is a little dizzying.
D.I.Y. is quite a contrast. This is an elegantly turned and minimalist composition utilizing just enough of the right elements to paint a picture for its audience. The highlight of the piece is twofold – the expert touch that the drumming and piano work demonstrate guiding the way musical is superb and Nick Black's vocal ranks among his best performances on the album.
Many will flock to the song Let's Be Glad, but some will be put off by how much it strains for its musical effects. The wisdom of so deliberately plotting out a pastiche to particular styles is that you risk sounding too premeditated and Let's Be Glad certainly checks off all the boxes for southern gospel influences. Others, however, will hear an artist and accompanying musicians building their own splendid variation on the form without it ever sounding like pandering. The lyrics in the song's second half are particularly strong.
The Worst You Can Do has a great build as well from its beginnings as an acoustic guitar and singer alone into a full-stop theatrical stunner with Black confidently in front and riding out a variety of crescendos with the band on point behind him at every step.
Deep Blue ends with the rhythmic showcase All Over Again and it's a good, muscular familiar for the recording. Nick Black wants to exit on a high note musical and this song does so without ever over-exerting himself. It's a microcosm of the album as a whole – there's just the right amount of artistry, just the right amount of force, just the right amount of fun.
8 out of 10 stars.
[soundcloud url="https://soundcloud.com/nickblackmusic/lets-be-glad" params="" width=" 100%" height="166″ iframe="true"/]
If you enjoyed a preview from Nick Black's album Deep Blue, check out his official website by clicking here. Also make sure to give him a like on Facebook by clicking here & a follow on Twitter by clicking here.